Here I am again!
Today I'm reviewing the Avengers Helicarrier, as I said with the Batman review I'm not a die-hard superhero fan, but I have watched most of the Marvel movies and I think they are all really cool so I was looking forward to this set, especially with the abundance of minifigs.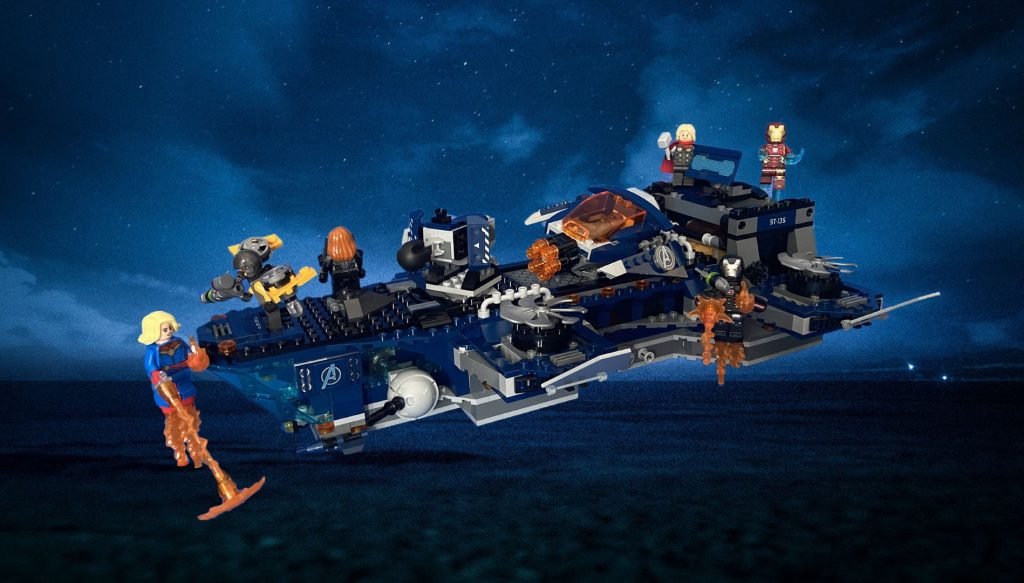 It started off by making the minifigs and the mini plane/jet thingamabob. The second packet continued on the minifigs as well creating M.O.D.O.K. which I had never seen before in any of the Marvel movies and my first reaction was "who is this fatty in a golden cube?"
The interesting thing about the minifigs though, was how some of them had so many pieces! The War Machine minifig had more pieces than I had ever seen on a minifig, but that only made it more awesome!
The next few packs after the minifigs moved onto making the base of the Helicarrier. The front part was build first, and the cockpit started to take shape. After that the back was made and I soon noticed it had a big hole in the middle, then I realised that it was M.O.D.O.K.'s prison (oh God, I can't bear to write that every time, he is now called 'golden cube')!
There was a technic mechanism too, that started to connect all the Helicarrier and when I released that it would make all 4 propellers turn at the same time, I was super pumped!
All the other packets kept on building on top of the base I had created and also introduced some new minifigs, the only one I was disappointed about being iron man, because his helmet wouldn't open like the other ones in other sets, it was one mould ☹.
Finally I thought I was done, but then I found out I had made one error that would change everything. I had left 1 little technic piece that goes on a technic rod out, so only 2 of the propellors would turn. So much to my dismay I had to rip the whole thing apart and fix it.
Luckily when I fixed it I was rewarded when I found out the propellors would all move at the same time when I moved the Helicarrier along the ground because it was all connected to a wheel!
The Helicarrier also came with a cannon on the deck that could fire a plastic bullet pretty far and the cockpit also opened up. Golden Cube could also fit in the jail at the back too!
Overall Thoughts
Overall this was a pretty epic set that I really enjoyed!

(Adam's note: Now let's get a Deadpool set released!)
Swooshability: 8.5
Build enjoyment: 8
Displayability: 6.5
Check this out moments: 9
Value for money: 7.5

Set: Avengers Helicarrier
Theme: Marvel
Set #: 76153
Number of Minifigs: 8
Number of Pieces: 1244
RRP: $199.99