We've written about Brickhawk before in an interview with BH – the Brickhawk creator. For those new to Brickhawk, it's a fantastic site that crawls the web to bring you the best LEGO deals around. We're paid up Brickhawk ultimate members, but you don't need to pay for the basic free use tier. Naturally, paying for access gives you a lot of goodies.
But for one lucky reader Brickhawk is giving a 12 month Middle Hawk subscription away to celebrate their 3rd birthday. To win, just tell us your favourite set in the comments below. We will randomly select a winner on the 20th Feb.

In the 8 months since the original interview, there's been many improvements made on the site so we thought we'd round up some of those we like best.
New Frontpage
The main dashboard has had a complete revamp with three new categories added: Best deals, New Releases and Retiring Soon. Sometimes you'll have specific sets you really want, but others, if the price is right, you'll grab it anyway. This second approach is well served by Best deals where sets with the highest discounts are listed.
New releases doesn't need much explanation and nor does Retiring soon. However Retiring soon is a pretty important category as we've all had that set we wish we bought and then kicked ourselves when we had to pay a tonne more later on.
For me, it was the Old Fishing Shack. I saw it at David Jones and thought it was awesome, but as a very fiscally responsible man (read:tightwad), thought I'd wait for it on sale. Naturally, life got in the way and I didn't get the set. Fast forward a few years and I ended up buying at double the cost. There's a lesson in there somewhere…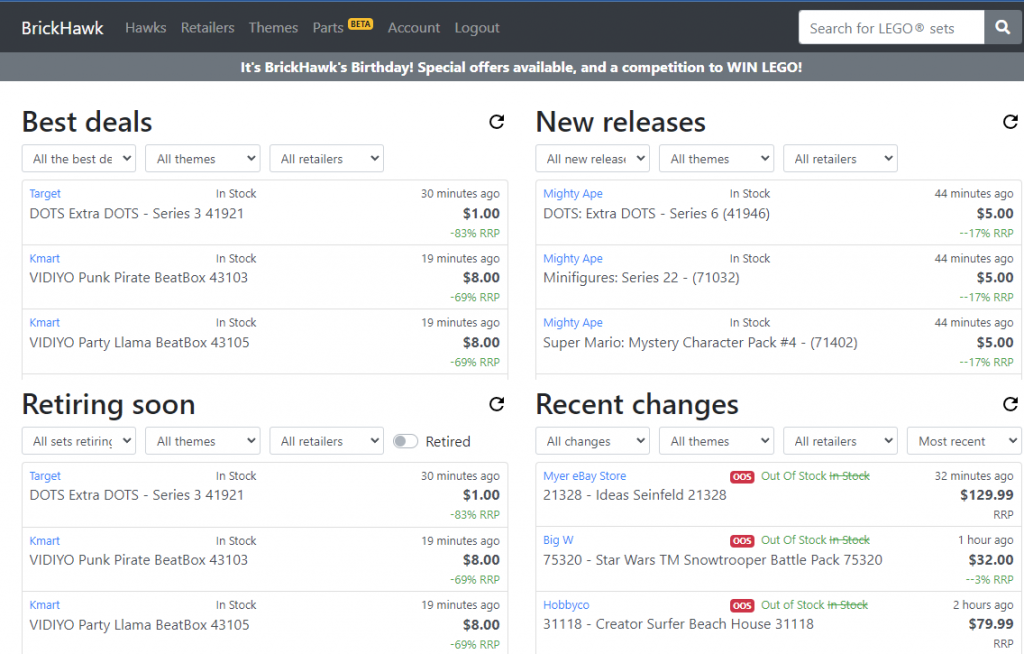 Updated Email info
For many of the really special deals such as 40%+ off, they sell out really quickly. As such, you need to be on your toes to get in quick. Brickhawk have recently made changes to the email format so that they key info is right up front. For me, this means it shows me the key details on my Apple Watch (Set, Price, % off RRP). With this info, I can quickly work out if it's something I'm interested in, or I should let it go to the keeper.
The best part about this update, is that BH has delivered based on user feedback. It's really pleasing to see developers listen to their users and quickly adapt and modify the product where it makes sense to do so. Hat tip to BH!
Other improvements
The improvements above are the two main game-changers for me, but under the hood there are many, many more. They include speed upgrades, user-interface improvements and even a beta release of part hawk so you can chase down specific elements. In fairness, that still has a little way to go to be really useful, but the main point is that BH is continually developing the platform and it's getting better and better.
The final word
For us, we've saved well over our annual membership in just the savings on one set. So if you love LEGO, and you love bargains, then definitely head on over to Brickhawk to check it out. Readers of Casadebricks can use the code below for a free no-obligation 14 day upgrade trial, but before you do, let us know your favourite set in the comments below for your chance to win the year's upgrade!
To get your free 14 day upgrade, sign up at Brickhawk and use the code CASA14D.
There is no obligation, no need to add payment details and you don't even need to cancel. After the 14 days, you'll revert back to the standard plan. If you feel it's worth it you can then upgrade.