Today we review another White Whale set that we've been dying to get for some time. The LEGO Modular Green Grocer. This set first was released in 2008 and designed by the original designer of this series – Jamie Berard.

Given the age, it's becoming harder and harder to find so when we saw it for sale in the Perth LUG user group we snapped it up.
Having recently built the Grand Emporium we were keen to see how this set stacks up. The Grand emporium was a little newer so it will be an interesting comparison. With 2353 parts it will be a solid build experience.
Like most modulars, we start with the ground floor. It makes sense I suppose as building the second storey on air could be challenging. Compared to newer sets, this was slightly unusual in that it uses two base plates. Most other sets use a single larger plate. I'm not entirely sure why this is the case as the larger plates have been around for longer than this set. If you know, please let us know too.
Like many sets building the floor tiles was the first step. In this set it was a little more enjoyable than normal as a wide range of colours were used. There's also something unusually satisfying about the clean, flat floor tiles.
We then started to build the walls, but also stock the grocery shelves. It was interesting to see how over the years the LEGO supermarket stock has changed. In this build it was basic bricks to indicate the various boxes on the shelves. Yet if we fast forward 7 years to the release of the LEGO Simpsons Kwik E Mart, the stock on the shelves often has printed brickets with actual products. Both outcomes are still pretty satisfying to see in the refridgerator though.
There is also a set of 4 post boxes on the ground floor. Here in Perth we have parcel lockers that look very similar but weren't around in 2008. Perhaps LEGO could see into the future…
The stairs are also built with a more traditional method of 2 x 8 bricks, with a small recess left. Naturally though, where there is a recess, there needs to be a mouse nibbling it's snatched cheese! There's also a good use of SNOT and printed tiles to showcase the door entrance.
The build of the awning and the fruit display tubs is really enjoyable. It brings great splashes of colour to the front of the store. It was also cool to see the sextant piece used to create an ornate light fitting.
We then finish up the ground floor build with a minifig pushing her pram. It may have been quite a challenge due to scale, but it would have been great to see some form of baby bonnet in the pram. Perhaps a coloured single stud?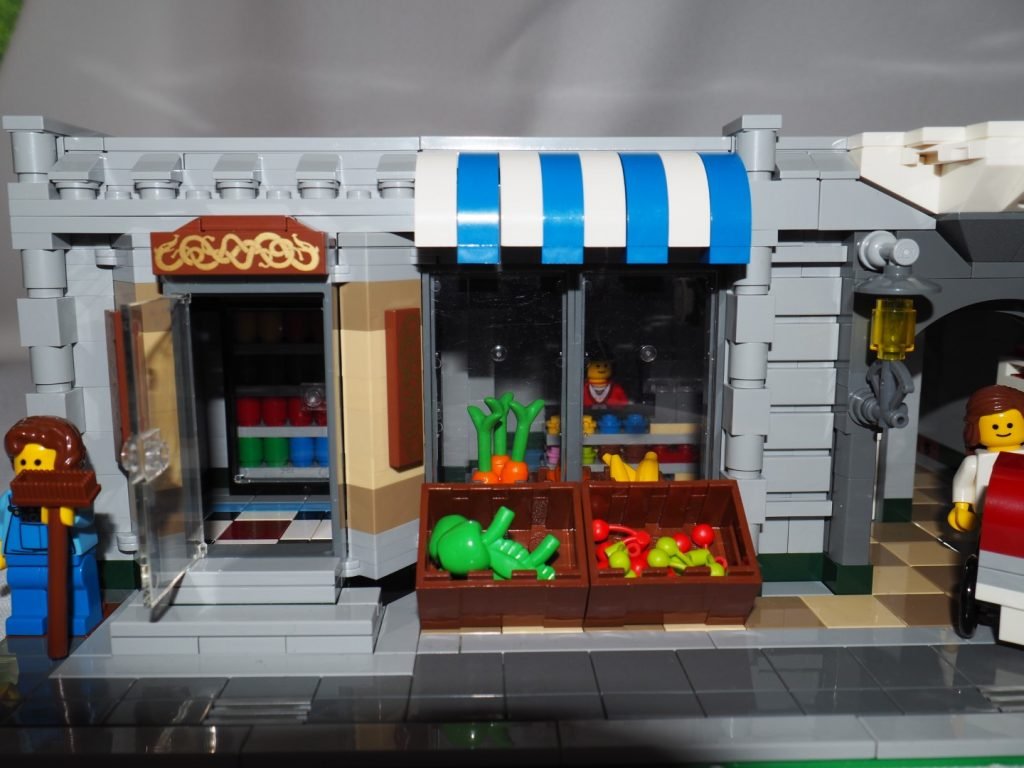 Moving on to the second floor we got to build a fire escape ladder. Here in Australia, it's pretty rare to see a moveable fire escape ladder. I've never seen one in real life, but then I haven't really been looking either. Either way, it was fun to build. A small fire place is built on this floor as well as a staircase railing. The use of goblets to add ornamental flair to the railing was a nice touch.
This level also has quite a few intricate details throughout. The curtains inside the windows look great and so too does the detailed facade on the outside of the building. The use of multiple window panes adds a unique look to the front of the building. We really like it.
A cute little kitten is also playing on the stairs. I'm sure just having a break until they go back to catching the mouse down below.
Alas, we come to book 3 which wasn't included with the set we bought. So off to the instruction section of the LEGO website we went. Now beggars can't be choosers and we are very grateful the LEGO group hosts old instructions. However, it's a lot less satisfying trying to decipher the bricks and colours on screen. Oh well, first world problems for sure.
As we started the final section we really got a kick out of the grandfather clock on this level. it looks great and is such a simple combination of elements.
The detailed external facade on this level continues with added elements. The top of the windows looks excellent with the grill mesh added to round out the large vertical panels. Topping this off with the steeple look finishes that section nicely. The BBQ section at the rear of the rooftop also adds a nice rooftop mezzanine area to relax in.
Overall Thoughts
We really enjoyed this build. There wasn't too much that we would change. Perhaps a small bed or seat could have been added to the 2nd floor to add additional detail, but this is a minor quibble. We're really glad we managed to pick this set up to keep building out our modular city. It was a lot of fun and looks fantastic with it's siblings. Plus it's one more White Whale captured!
Swooshability: ★★★★★★★★★☆
Build enjoyment: ★★★★★★★★★★
Displayability: ★★★★★★★★★★
Check this out moments: ★★★★★★★★★☆
Value for money: ★★★★★★★★★☆

Set: Green Grocer
Theme: Creator Modulars
Set #: 10185
Number of Minifigs: 4
Number of Pieces: 2353
RRP: ?? (It was a really long time ago)