We recently received the Elsa Storybook Adventures set as part of our Christmas Family Pack Giveaway competition sponsored by our friends at Zavvi. Like all plans, they sounded good on paper. Sierra (my 11 year old daughter) was going to build this set and give her review.
When the set arrived, Sierra had a quick look but then went back to her ipad and thus the mission to build was returned to me. So let's get started.
Opening the box gives a couple of polybags, the case, a single double sided sheet of instructions and a sticker set. There's quite a few stickers, but we'll see through the build that many of them are optional and can be used to customise the storybook to your liking.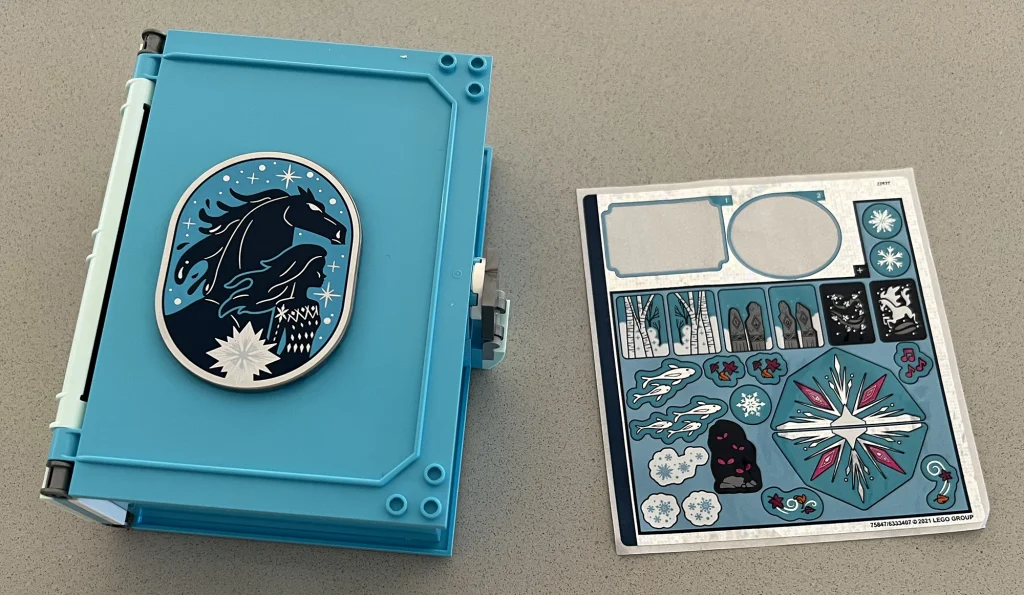 Building the case for the storybook is a pretty simple affair and doesn't take along. It's great that the main icon is a pre-printed piece and doesn't require a sticker. Given it's prominence on the set, this was the right choice in my opinion.
There are 4 micro-characters in the set, a frozen horse and a constructed Earth Giant. Olaf is bang on and looks fantastic, however I must admit to not being a fan of these micro-characters. I presume that LEGO originally built them to try to cater for young girls, given they are in many friends sets. However, building the same characters as minifigs would be much more pleasing in my opinion.
In fact, 100% of the young girls I queried said they prefer minifigures to micro-characters as well. Yes, I admit the sample size was just one (Sierra), but hey, it's still factually accurate.
The rest of the build is quite simple and is done in several stages. Each stage is then pressed onto the frame to create the whole scene.
It's quite a fun little build and the amount of micro-characters included means that a Frozen fan would get a lot of fun out of the set.
The storybook also latches closed so it's very transportable. I imagine kids might also put secret notes etc in the book as well.
Perhaps the most suprising thing about this set is the instructions, or lack thereof. The set is targeted to 5 years and over.
Over the years LEGO has gradually expanded the depth of the instructions. When I was growing up, cars weren't invented yet, but the LEGO instructions were quite basic. Page 1 had the baseplate, and page 2 had the finished set. You worked the rest out yourself.
I'm exaggerating a little, but newer sets often get very detailed with each few bricks shown in a new frame. This set had quite a few steps compressed together. I think it might be challenging for a 5 year old to work through it themselves.
Overall Thoughts
Although not a set I would normally buy for myself, it was a fun little build.
I really liked the portability and could see how the target audience would enjoy it. Even Sierra picked it up after the build and said "Hey, this is pretty cool". All in all, something that would be great for a birthday or Christmas present and likely to be a smash hit. One that the kids wouldn't want to "let it go, let it go!"
Set: Elsa and the Nokk Storybook Adventures
Theme: Frozen
Set #: 43189

Number of Micro Figures: 4.5
(The horse is the 0.5)
Number of Pieces: 597
RRP: $29.99