I admit to not being a die-hard Harry Potter fan. I've seen the movies, and definitely laughed at the various memes on the internet – the puppet show song being a highlight! However, fan or not, everyone should be a fan of the Phoenix! It looked like a great display piece, full of colour and with moveable wings so we picked it up.

We start building the Phoenix and Dumbledore. Dumbledore looks great with his double wands, detailed tunic and luxurious flowing white mane. The print on the Phoenix is colourful and the wing span imposing.

And that's it for this magical set.. I hope you enjoyed our review.
OK, that was a pretty bad (good?) dad joke. Once we've finished with the minifigs, we move onto the main build. It starts with the base creation to provide the Phoenix a solid platform to sit on. The foundational base is pleasant to build and well laid out. The vertical stabiliser is a mix of LEGO and Technic pieces to ensure stability and strength with relatively limited piece use. The use of the round 2 x 2 brick with grille is great for the perch. It really stands out and looks quite similar to the perch's we have at home for our budgies.
One of the key features of this build is the flapping wings. They really look fantastic in action with a great action. We'll talk more about that later, but for now the build of the wing mechanism involves a fine 20 tooth technic gear coupled with a few of the Technic knob cogs. This approach allows the two levers to be linked together so turning either moves both wings.
The build of the body and wing structure comes next. It's a fantastic mechanism. It uses two seperate arms within each overall wing to allow it to flap in a life like manner.
It's the difference between holding your arms out straight moving up and down, and doing the same but bending your elbows to allow a flapping motion.
Yes, that was a very poor explanation, but it looks fantastic in real life.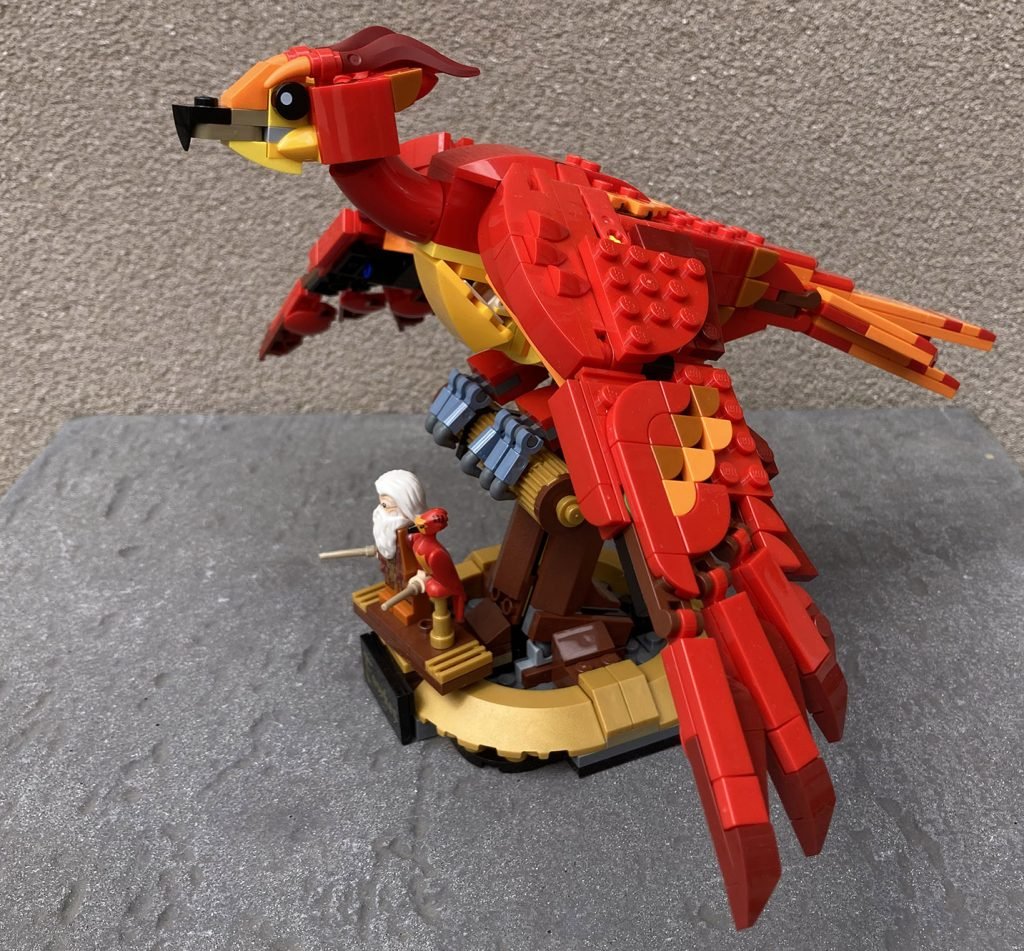 The claw component is really simple but looks fantastic and is sized perfectly to be able to grip the perch. Similarly the Phoenix's head is a simple little build but provides just enough character to the beast. The head is also moveable allowing you to position it however suits your display area.
A new element – the wave rounded single with pin is used for the Phoenix's crest and they look amazing. We're bound to see these in future sets as well as curved swords for minifigs.

Overall Thoughts
I really enjoyed building this set. It's colourful, fun to build and looks fantastic. As touched on earlier, the wing mechanism is very satisfying to use and reflects the swooping action perfectly. The model is also one that would look fantastic on display.
Swooshability: ★★★★★★★★☆☆
Build enjoyment: ★★★★★★★★☆☆
Displayability: ★★★★★★★★☆☆
Check this out moments: ★★★★★★★★☆☆
Value for money: ★★★★★★★★☆☆

Set: Fawkes, Dumbledore's Phoenix
Theme: Harry Potter
Set #: 76394
Number of Minifigs: 1.5
Number of Pieces: 597
RRP: $69.99