The LEGO Group announced today the first prototype brick made from recycled plastic. There's still a fair way to go to hit production, but this is a really exciting step forward. I think all of us AFOL's would love our children and grand children to experience the same joy of LEGO bricks well into the future. Hey, even our grand children's grand children should get to share the fun, and this is part of what we need for that to happen.
Made from PET plastic (the same material as drink bottles), eventually we could see bottles being recycled direct at your LEGO store. Drop in a 1L bottle of Coke, walk out with ten 2×4 bricks. Ok, I'm getting a bit too excited here, but the future state of this is pretty exciting!
Interestingly, LEGO bricks have been made from sustainable material before. For example, the soft leaves in the awesome (and just re-released) LEGO Treehouse (21318) are made from BIO-PE. BIO-PE is a softer plastic made from sugarcane but not suitable for the harder bricks.
Perhaps the best quote from the LEGO press release was that the brick's won't be released until the same awesome Clutch Power can be guaranteed. This is fantastic to see as that Clutch Power is what makes LEGO construction so fun no matter how many years you have each set. I'm super pumped about this news. It's great to see LEGO taking this initiative.
The infographic below provides a great summary of the current state of play. (Click to Enlarge).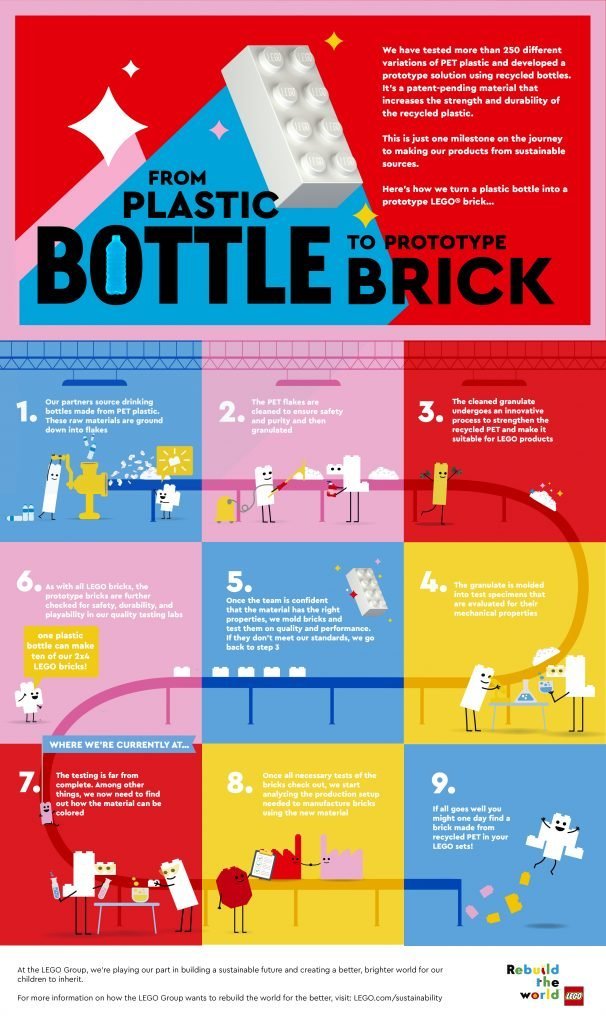 [envira-gallery id="1368″]