May the 4th be with you! I've got a bad great feeling about this! Today I'm reviewing the LEGO Star Wars X-Wing! I'm amazed that this is my first Star Wars review, as it is by far one of my favourite film series ever! Ask me almost anything about it and I should know the answer.
Being super hyped for the new LEGO Skywalker Saga game, it was a gift to open this set up, it seemed not too large, but not too simple either. Just right for swooshing around! Instead of building from the base up, this set starts with the pointy front part of the X-Wing, including the pilot seat and cockpit. The cockpit glass opens up too. For me, this point is an essential when it comes to Star Wars sets.
The set comes with 4 minifigs, Luke Skywalker, R2-D2, Princess Leia and General Dodonna. Fun fact: General Dodonna's first name is Jan! Dodonna was the only minifig I didn't have yet, but it was cool to see the others. I like how LEGO used the curved 2×2 dress piece for Leia's legs, its the small details that make the overall minifig better.
The 4 packs of the set come in 4 main parts (WOW, how surprising is that!). The front, the back/engines, the top 2 wings, and the bottom 2 wings. The back engine part consists of a technic mechanism that looks complicated but works really well.
When you push a technic bar down it opens the wings into the S-foil attack position. (Yes, the X-Wing doesn't always look like an 'x', when it's stationary or casually flying, the pilot normally has the wings closed. So it sort of turns into an E-Wing, haha!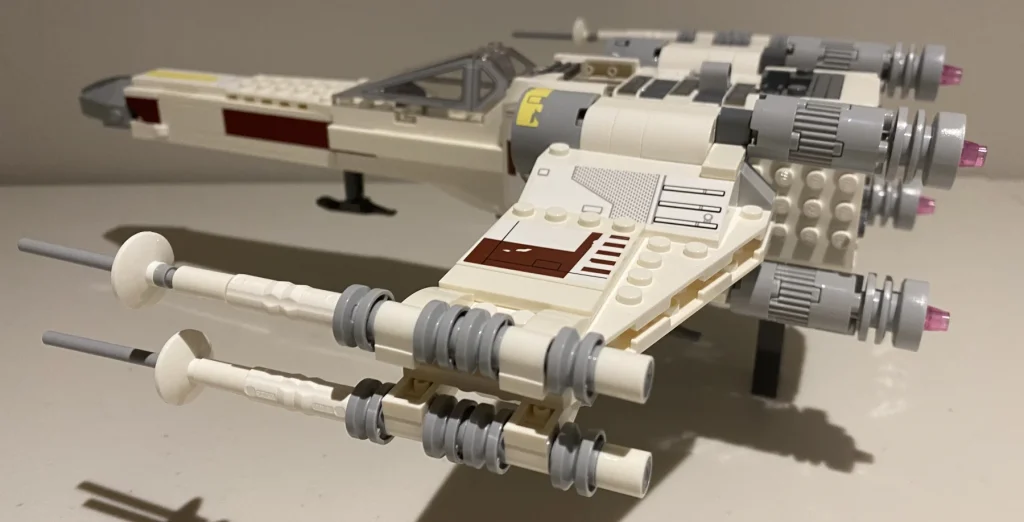 Once the X-Wing is completed you can fly it around and shoot the flick missiles on the wings. The set has very good swooshability as it's just the right size for your hand to swoosh it, but also has enough sufficient detail to make it look cool. The only thing that I would've liked is a place for Luke's lightsaber to clip in. As it is, you have to break it up and stuff it in the cockpit with him to make it fit.
Overall Thoughts
Overall, this was a pretty good set. As a LEGO fan and ignoring my love for Star Wars, I liked this one. It had enough detail but also enough opportunities for fun and play. An epic build for my first Star Wars set on the blog.
Thanks for reading!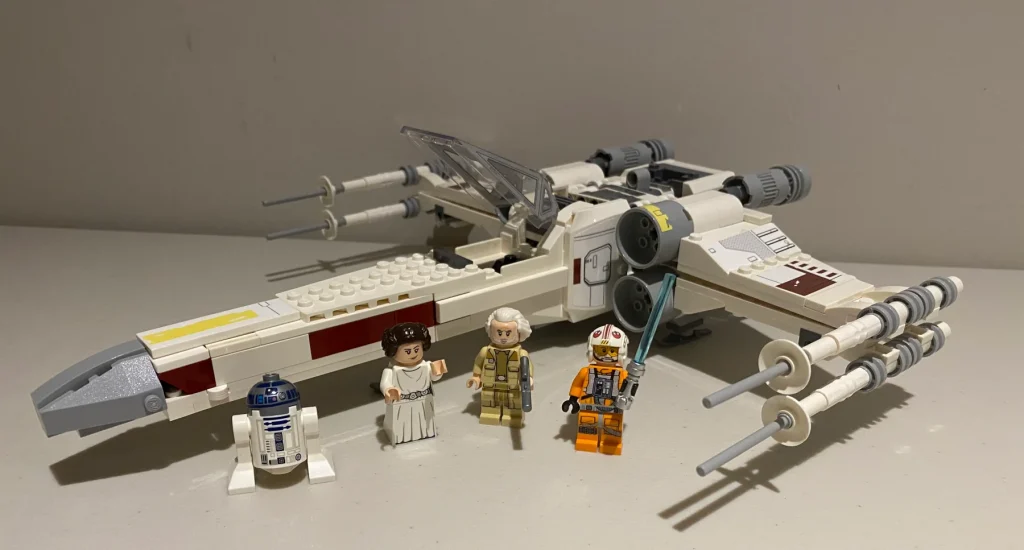 Set: Luke Skywalker's X-Wing Fighter
Theme: Star Wars
Set #: 75301
Number of Minifigs: 4
Number of Pieces: 474
RRP: $79.99