Hey everyone! Today I'm going to be reviewing the LEGO City Missions Mars Space Exploration!
This was a set I was very excited about when I first saw it appear on the shelves. The whole idea of LEGO Missions is to follow the 'missions' on your device, and then use your imagination to build something the mission says with the pieces provided. As an avid MOC builder, I was looking forward to having lots of fun with this one.
Upon opening the set, it comes with 5 packets. These are each opened throughout the 8 missions that you do on your device. The missions are played in the LEGO Instructions app, which I was confused about at first. I thought it was going to be its own app. The first packet and mission introduces us to Lt. Rivera, who is an astronaut and Dr. Wexler, who is a scientist with the most German accent you've ever heard. (He also looks like my science teacher, sort of.) During the first packet you get to make our own minifigure out of the parts provided. So I created my own as you'll see below.
Moving onto the second packet the missions tell you to create your spaceship. The app gives you instructions on how to make the spaceships main base and this is when I started having doubts.
I was annoyed I had to use instructions as the whole point was that there were no instructions. (I mean that is what it says on the box!) But now,m looking back I see why they did this. If they didn't make instructions for a small base for the spaceship, it would be hard for little kids to build anything that would stick together. Although it was annoying for me at the time, I think this was a good idea by LEGO.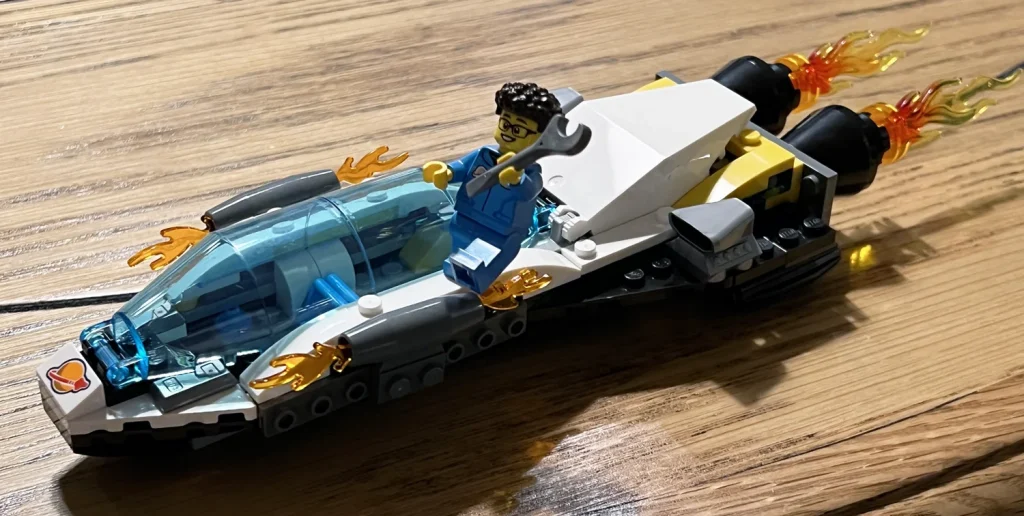 Over missions 2-4 you are required to complete a variety of tasks. For example, at one point Lt. Rivera breaks the spaceship's boosters. So you have to use Dr Wexler's Brick Separator and get help from a new character Lt. Jamie to take the old boosters off. Then we get to use the pieces to make new powerful rocket boosters, as you can see I did below.
You also get to build other little tools, like a laser welder, and even a robot dog called O-JO. Eventually you arrive near the moon. You then are required to make a navigation device to slingshot around it to the final destination of the set, Mars. I used some ball joint pieces to make a nice scanner thingy that goes up and down.
(Another quick note: When you are told to build something on your own, it comes up with a screen that shows a kid with bricks flowing out of their head, and then a screen with design ideas. These ideas can be clicked to see example builds which is really helpful when you are stuck.)
During the missions, you are also asked to 'play them.' For example when you slingshot around the moon, after you build the required thing, there is a screen that tells you to 'play your mission'. This is a pretty good idea, as it gives you a break from the screen. Going through this whole set takes at least an hour and a bit. (For me at least, don't put this in your doctorate thesis!)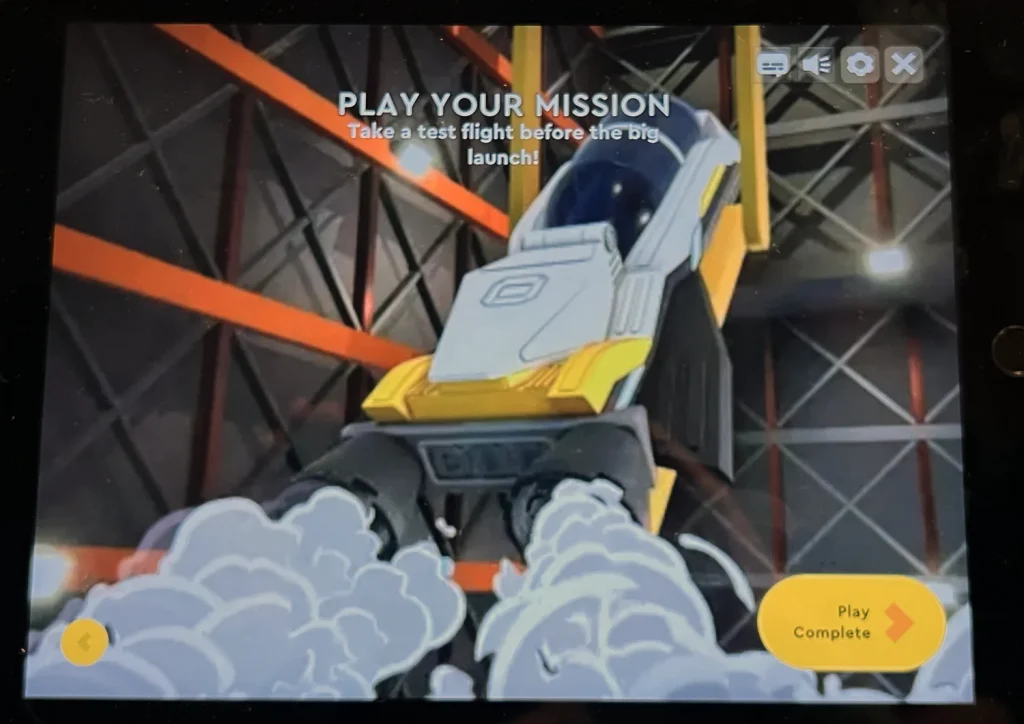 Towards the end of the missions (6 and 7) some more dramatic things start to happen. Firstly, some brick-built asteroids you make start flying towards your spaceship. You are told to make a defence against them. Obviously, being an explosion loving person, I decked out my entire spaceship with tons of laser guns and cannons. I also added a Wexler Claw (a small grabber build you make earlier). It probably doesn't need to be said, but yeah, those asteroids didn't stand a chance.
Finally, as you approach Mars, Lt. Jamie somehow manages to break his tether and starts floating off into space… (WHY HOW CONVENIENT?) But unfortunately, since I wasted all my bricks on my defence system I had barely any left to save Lt. Jamie. So I had to hobble together this weird butterfly jetpack. Luckily, I managed to bring him back. But to be honest I probably could have just left him there and picked him back up when I returned to Earth with O-JO. (What? You're a fully trained astronaut with a high-pitched squeaky voice, and then you SOMEHOW manage to break your tether and get lost in space…)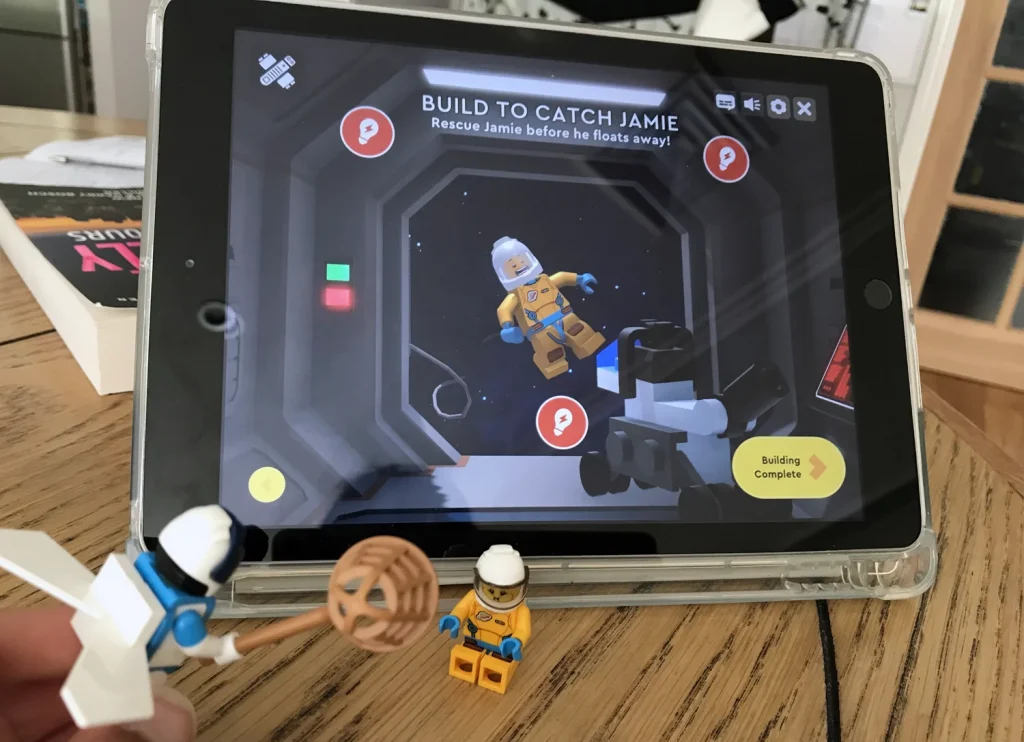 But once you have saved Jamie, (if you choose to haha) you approach Mars. You are told you must make some landing gear/shields, but just take one look at mine below, they WOULD NOT survive the fiery entry onto Mars.
But after that, you get to build a small Mars rock, and then plant a flag! There's a nice ending cutscene and then the final build, to take your spaceship apart and begin the new Martian colony.s
Overall Thoughts
Overall, this was a great set! I definitely had some doubts throughout my building of the set, but it managed to pull through. The designers managed to mix building with instructions, while still allowing the main goal of the set to be building without them.
Although I was opposed to using the instructions at first, it is a good mix and goes really well with the sets main theme. So, all in all this was a set that lived up to my expectations, a lot really does come from the small box. Finally, another plus is that you can do it all again! See you next time!
Set: Mars Spacecraft Exploration Missions
Theme: City
Set #: 60354
Number of Minifigs: 3
Number of Pieces: 298
RRP: $49.99
A special thanks to our friends at Zavvi who supplied this set for us to build. Check them out for great deals on LEGO sets.