Amazingly Mickey Mouse has cracked 93 years old! This is a huge amount of time for one of the screen's most loved characters. He and Minnie both must have a great skin care regime as they still look fantastic! We saw this set in the shops and for quite a while weren't too sure what to make of it. It doesn't have any of the swooshability that we normally love. It also didn't really match the general display pieces that we like. However we do love all things Disney so thought we would bite the bullet and give it a go during a lockdown buying bonanza!

Like almost all large sets, the instructions start with a bit of information about the build. Ollie Gregory talks a little about the design process and notes the challenges with weight distribution due to the slender limbs. Luckily Minnie and Mickey didn't skip leg day so they can stand up for long periods.
The build is completed in three seperate sections; Mickey, Minnie and the accessories. The first step of the process is to build the underlying structure for Mickey which was helped by the wide variety of colours to track the piece locations.
We then built ouf the rest of the base with a combination of white smooth plates, a large printed Mickey signature and window pieces for the reel edges. It's difficult to capture the colour well in our micro light box, but in real life, the blue tinted glass panes look absolutely amazing.
We then move on to the feet and legs which are well designed to reflect Mickey's oversized feet.

Fortunately with much of this set, the tiles that have markings are printed, rather than stickers. HOORAY!!!
The use of various elements like the front white buttons really brings Mickey to life. There is a huge amount of SNOT action in the build to create the shape needed. Putting Mickey together is really satisfying as you see him taking shape. A lot more so than I expected to be honest.
We then move to Mickeys head and the unique parts needed to make it take shape. As you can see here, clearly I didn't read the manual properly and left Mickey with an elongated Neck! Whoops… That's now fixed as Mickey was complaining on neck pain for quite some time.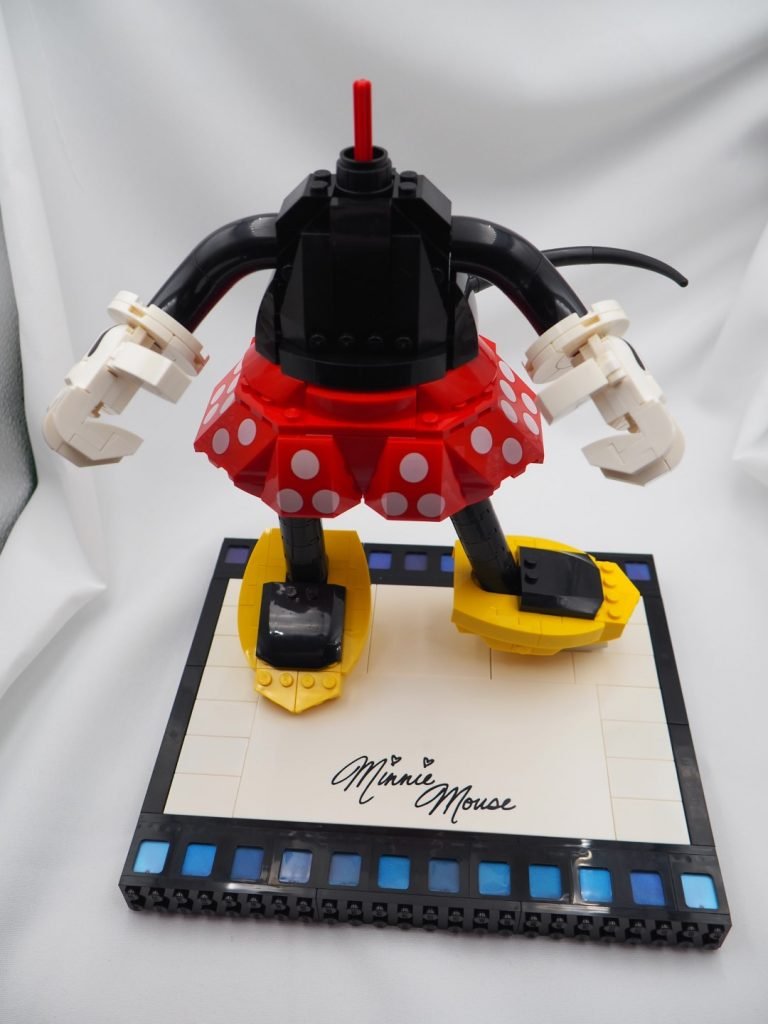 Once Mickey is finished, we move on to building Minnie. It's similar in terms of the base plate but not as repetitive as you would imagine. I can't stress enough how good the blue film reel looks, so it was great to build a second one!
The components used to build Minnies shoes into high heels was enjoyable as was the use of the car bonnet for the top of the shoes.

Thankfully Minnie's dress was printed as my OCD would be off the chart if we had to use stickers for each dress piece. There's no chance they would all line up!
The absolute pinnacle of satisfaction comes when you add Minnies Eyes to the build. And Mickies too for that matter.

You can see that Minnie's face is taking shape in the top image. The two black vertical pieces even look a little like 8 bit eyes. However, putting the printed eyes in place absolutely transforms the head. It's super duper satisfying! It's almost worth the cost of admission alone.

Assembling Minnie is not dissimilar to Mickey, but the added flair for Minnies hat with the flower is a nice touch. The construction of Minnie's and Mickey's body also differs slightly to keep the build fresh with relatively limited repetition.

The picture book by Minnie's feet is the only area where stickers are required. They are also standard rectangle stickers so easy to apply minimising any frustration.
After the main characters we get to work building a few accessories for the set. Minnie has a bouquet of flowers and a photo book. Mickey has a guitar (or perhaps a banjo?) and there's an old fashioned camera to capture the memories.
As is usually the case, the quality of the build for these accessories is really great. I particularly liked the camera as it's an amazing replica of a ~1930's era camera.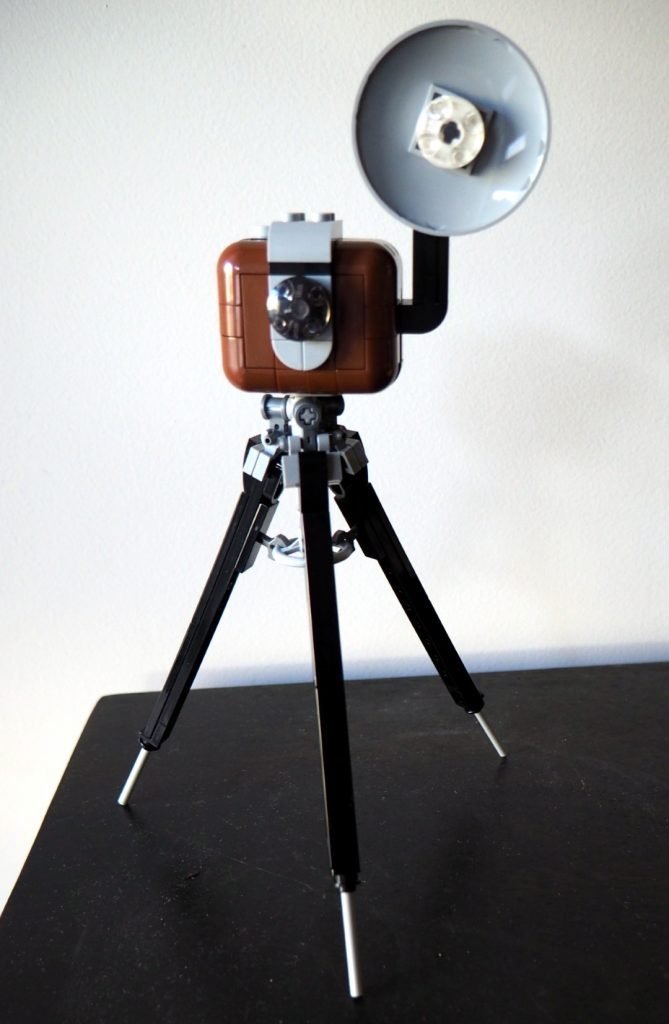 Overall Thoughts
I'm really happy to be proven wrong with this set. It was a really enjoyable build and looks absolutely fantastic in real life. You may look at the box and not be immediately eager to purchase, but I think that's a mistake.

If you are fan of Mickey and Minnie and a fan of LEGO then this is a fantastic display set that's highly recommended.

There's virtually no swooshability, but we've manually adjusted the score to reflect the type of set it is and our highly recommended status.
Swooshability: ★☆☆☆☆☆☆☆☆☆
Build enjoyment: ★★★★★★★★★☆
Displayability: ★★★★★★★★★★
Check this out moments: ★★★★★★★★☆☆
Value for money: ★★★★★★★★☆☆

Set: Mickey Mouse & Minnie Mouse Buildable Characters
Theme: Disney
Set #: 43179
Number of Minifigs: 0
Number of Pieces: 1739
RRP: $279.99