It's surprising to realise just how many LEGO fans there are in your town. Here in Perth, we're a part of two groups of fans – The Perth LEGO Users Group and the WA Brick Society. Both have fantastic events throughout the year. Today we're recapping the monthly Buildapalooza events run by the Perth LEGO Users Group (hereafter known as PLUG).
PLUG was initially created ~7 years ago by Richie and Dale, and is now also supported by 5 other great community admins – Claudia, Silvia, Sue-Anne, Ben and Lukas. We love the atmosphere of the club as it's completely inclusive of anyone who loves LEGO. There's a couple of rules for membership, but they largely boil down to "Love LEGO, be a good human". Most of the online activity occurs on the PLUG Facebook page, and the Community website. With close to 4000 members, it's a great community.

Richie very occasionally brings out the ban hammer, but only if someone is trying to bring down the positive vibes of the club, or if you send him Technic sets. It's a great approach, but I digress.
On the second Monday of each month, the club runs Buildapalooza. It's a session that runs for a few hours in South Perth where you can enter the parts draft, build sets, win a raffle or just chill out with other LEGO fans.
The Parts Draft
What is a part's draft? I'm glad you asked. This last Monday was our first parts draft and it was heaps of fun. The set for this months draft was Picnic in the Park.

In short, everyone who want's to be in the draft, purchases a set that's agreed on. The parts within the set are then seperated into buckets. Once the parts are seperated, everyone gets a random number and whoever got #1 gets first choice of the parts. Then #2 gets second choice and so on. Once everyone has their pick, the process starts again. The minifigs in the set are not included and everyone gets to keep their own which is fair. For a longer (and great) video explanation, check out Ben Cossy's youtube overview.
You can see the layout above. The fun of the draft is that it's like a mini lottery, but everyone is a winner. Some are just bigger winners than others. For us, we drew #11 out of about 16, so not ideal on face value.
However, it turns out that often people have different desires for parts. In the four picks we had, we selected the items below and were pretty happy to snag the bicycles and some great elements for Oscars Minecraft MOC's. Naturally the bigger the set, the more selections you would get. Overall it was great fun and we'll be taking part again.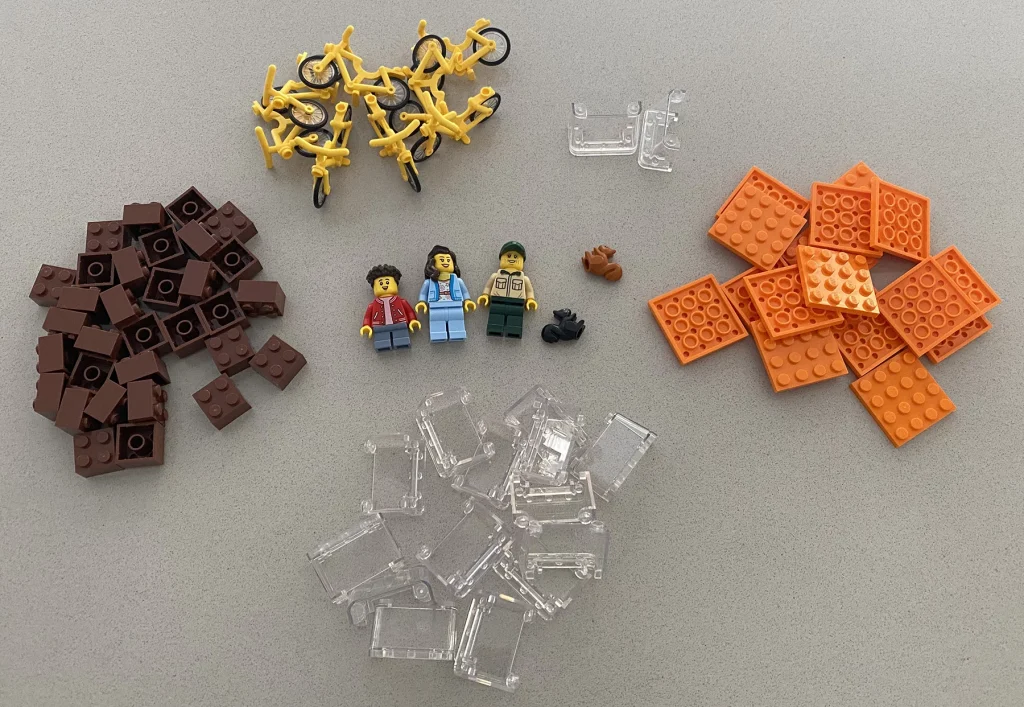 Building and catching up
The second activity of the night is the set building. This is essentially whatever you want it to be. Bring in a set and build it alongside others. Given the various sets others have, it can be a chance to see sets not often seen in the wild. On our table, one of the group was building the original Republic Gunship with a guest appearance from Jedi Bob!
But you don't need to build a set. It's also a great chance to just catch up with friends you've not seen and talk about what's happening in your life. 62.4% of conversations are about LEGO, but it's not mandatory.
The Prizes
The PLUG team are often running raffles for LEGO sets through the facebook page with the winner drawn at Buildapalooza. This event the mighty Titanic was the set to be drawn. Given the sheer awesomeness of this set, the tickets sold out in less than 7 minutes and the lucky winner was Brent. No doubt he is giddy with excitement for this huge win!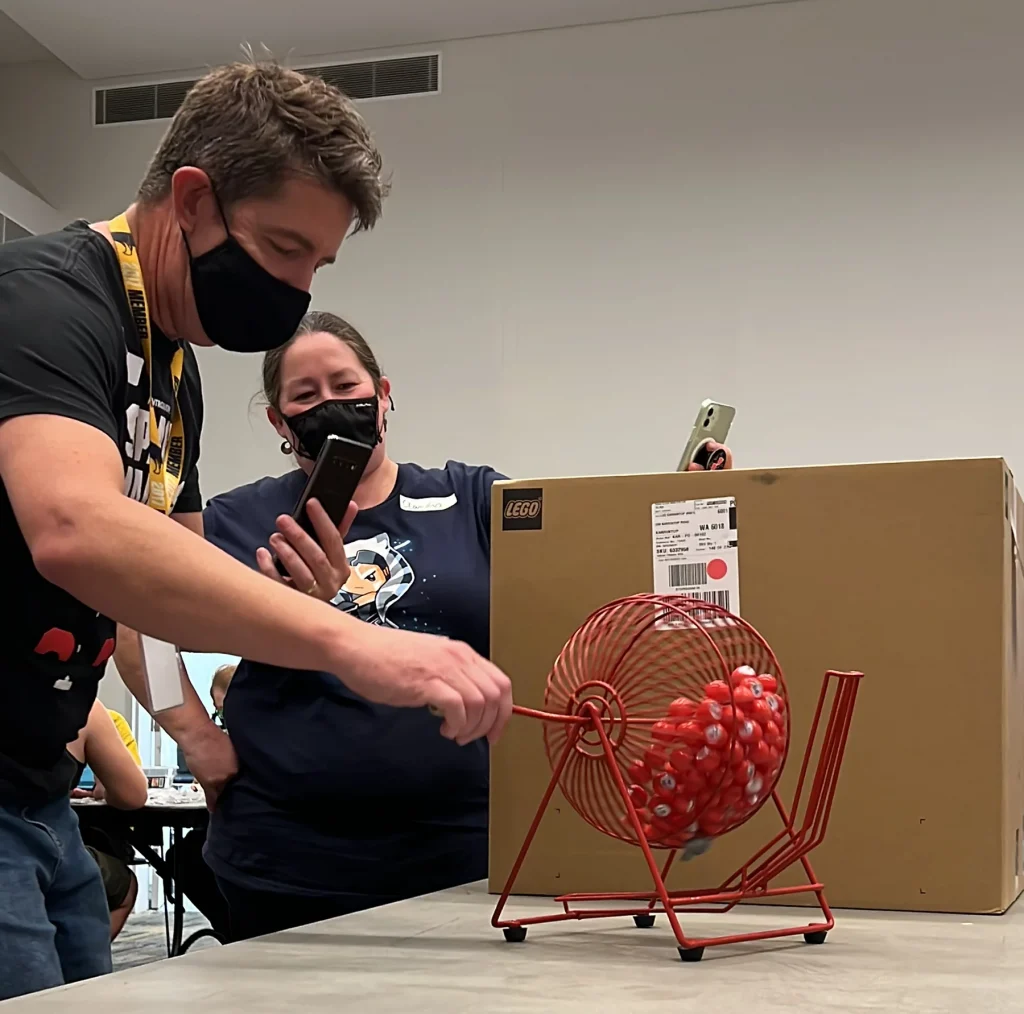 There are also door prizes to be won which change each event. You receive a ticket with your $5 entry (kids are free), and can buy more tickets if you like. We bought a couple of extra tickets and were lucky to be drawn second having the pick of these great sets. Oscar chose the New York Taxi to join our modular city.
Should you go?
If you live in Perth and love LEGO then this is a fantastic event to attend. It's a safe place for any LEGO fan, with a great group of people who share a common interest. The environment is super friendly and everyone is welcome. I did suggest Oscar to start calling his sets LEGO's rather than LEGO. He rightfully looked at me like I was an alien and questioned how dare I even utter such a sacriligeous statement. Overall, it's a really enjoyable way to spend a few hours and is highly recommended.
Plus, if you play your cards right, one of the awesome crew might have a birthday and bring cupcakes*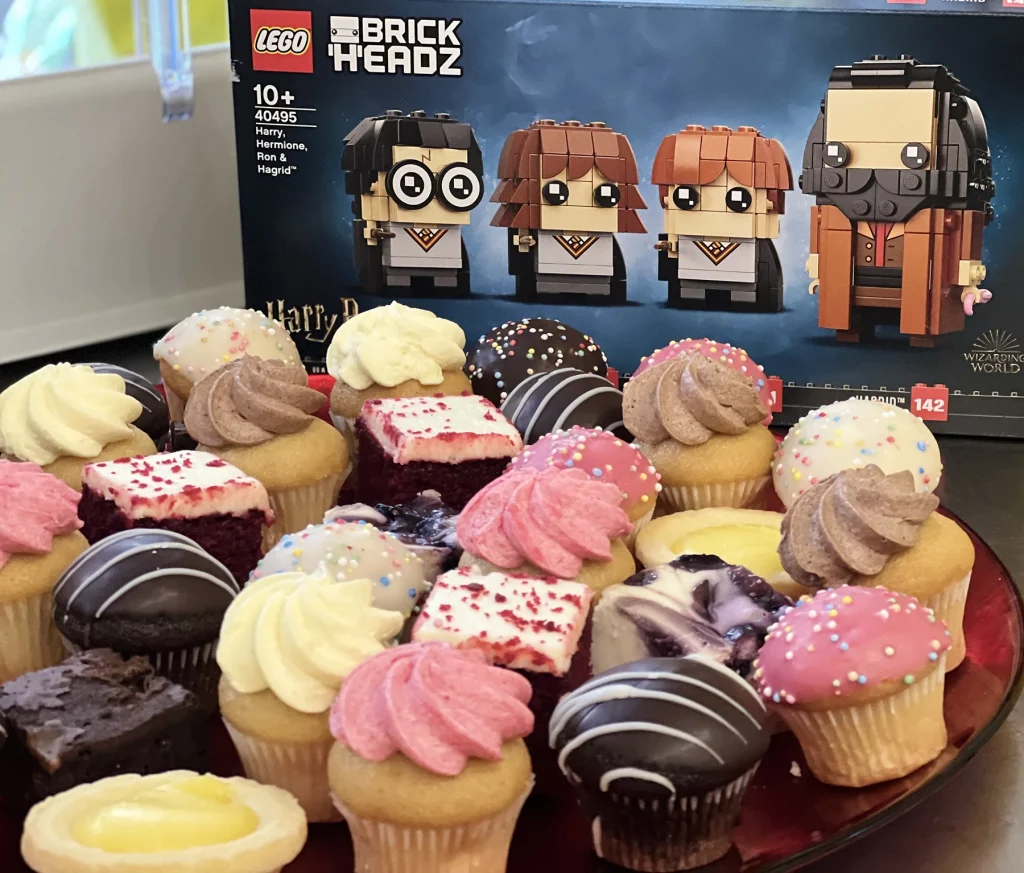 * Some conditions may apply. Not every event is guaranteed to have a birthday or a champion who brings cupcakes. If cupcakes are a deal breaker, perhaps bring some along and you too can be that champion!