Today we review the R2-D2 set. As soon as it arrived on our doorstep we've been busting to build it as the box looks fantastic. There's something about R2-D2 that makes him a huge fan favourite for the last 44 years. Perhaps it's how expressive he is although he uses no words? Or perhaps it's just because he saves the day many times and complements C-3PO so well. Let's get stuck in.
Opening the box presents many bags, although half are within a seperate white box, as are the instructions. I'm not entirely sure why LEGO take this approach, but suspect that given there are two free floating pieces, the extra box ensures they won't get lost in shipping. If you know the official reason, please let us know.
Like many of the adult aimed and collector sets, the instructions include fantastic extra info about R2-D2 and the Star Wars empire. We really enjoy reading this, and it's a great addition to any set.
Pleasingly, the set instructions also have a white background which makes it vastly easier to follow. Please keep this up LEGO and decommission the black backgrounds in instruction booklets.

The set has a solid blend of technic techniques and standard LEGO brick building. The technic components are vital to give the structural rigidity needed as by the end, R2-D2 is quite sizeable and weighs over a kilogram.
We start the build with the center leg. This one needs to be especially solid as the the entire build will revolve around it.

The main leg structure is all technic, and whilst preferring building with LEGO bricks to technic pieces, it's still quite enjoyable. There's a tonne of colour and nothing overly technical in this part of the build. You do need to follow the instructions carefully to allow the leg to drop down later, but this is laid out pretty clearly for you.

Once the core "bones" of the leg are complete, we move to the foot which is constructed from LEGO pieces. Interestingly, rather than using wheels on the base several Plate, Round 2 x 2 with Rounded Bottom (Boat Stud) is used. This allows R2-D2 to slide on smooth surfaces, but not roll. As a play piece, thats bad, but as a display piece, that's good!
Once the central leg is complete, we follow up by building the support frame for R2-D2's body. There's a great mechanism inside that allows the leg to stay up, or drop down as required. It's suprisingly simple but works well and feels almost pneumatic. The use of the rubber bands helps prevent it from "clunking" down but sliding down in a controlled manner.
Now we've finished the technic components and on to the fun part – Building R2-D2's features.
The first part is the cladding for each side of R2-D2 and the designer stayed true to R2-D2's design. Most of the face is quite plain with flat plates and the features (or greebles) have been kept to a minimum. I imagine it would be tempting to add more features which would have been sacriledge.
One for each side is built and they clip on easily using three technic pins. The recessed air vents are simple, but effective.
We then move to building the legs. Again, they have just the right amount of greebles and look amazing. Once they are on, you can really start to feel how solid the model is.
Building the legs follows a similar approach to other components with the core leg built and then the decorative cladding added to it.

My favourite part is, without doubt, the gold hydraulic supply lines with the blue vertical strips running a close second. It looks fantastic.
The next step in the build is the front and rear of R2-D2's chassis. The rear is pretty plain like the real robot. The front however is quite detailed with various exhaust elements and other roboty components. I'm pretty sure that's a word. It's not perfectly to scale, but pretty darn close. Perhaps the only thing I would have changed is the small 1 x 1 circle plate in grey. I think this would have been better in blue to match the R2-D2 I've seen, but no doubt there are many different versions.

The only other change would be for me to follow the instructions better and attach all the parts! I'm missing a grey cheese grater in the middle which I'll add back after this review. You can see on the rear of the set two protruding cones that allow you to open up R2-D2's front components to dock with other robots and devices.
We complete the main build with R2-D2's head. It was the most fun part of the build for me. Not only are you so close, but you get to use a variety of elements but it starts to humanise R2-D2. The head itself attaches to the swivel plate we built right back at step one allowing R2-D2 to rotate 360′ like any self respecting robot.
Inside the head is also a secret compartment where you can store Luke Skywalkers light saber which is a great easter egg. It would have been nice if the rear top mounted port had an element that popped up like an antenna, but this is a really small quibble.
The finishing touch is Luke's light sabre (still the weapon everyone secretly wants to have), the minifig scale R2-D2 and the information plaque. These always bring home the Collectors sets and this one is no different.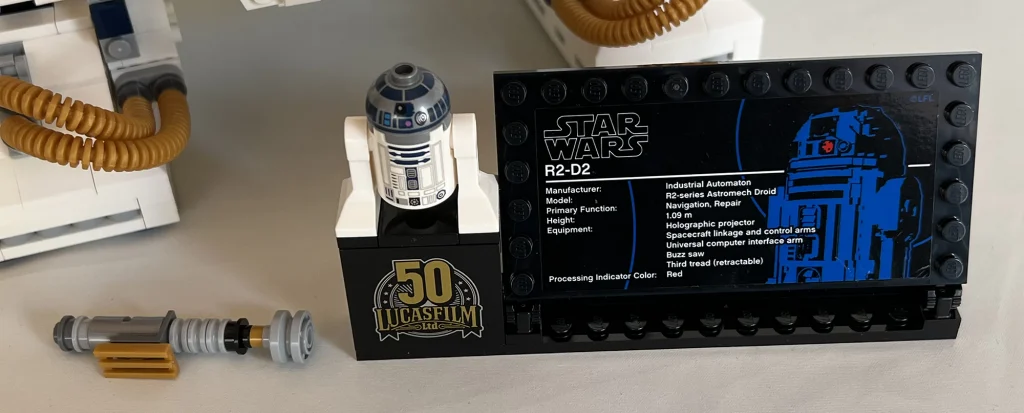 Overall Thoughts
This set is AMAZING! You can't really play with it too much, but it has enought features to make it interesting to show off to your friends. But it doesn't really need them. Once on display it looks superb. The build was enjoyable and a good blend of different techniques without becoming monotonous.
If you're a fan of Star Wars, or little robots that are much more useful than their partner in crime, it's a must buy and is highly recommended.
A special thanks to our friends at Zavvi who not only supplied this set for us to build, but also sponsored a competition to win your own R2-D2. Congratulations to Nicole Tan – The force was with you!