I'll come right out and say it – me reviewing this set is almost the same as going to interview Adele without listening to her latest album first. I mean who would do such a thing? I've not seen the Eternals movie, but the shape of this ship and the 6 minifigs seemed interesting. We love all LEGO, but if I don't know the theme very well, like in this case, I normally wait for a sale. That's how we picked up this set. I'll focus on the build itself and a little less on the storyline, but please don't hesitate to put me right in the comments.
The set is targeted for 8+ so I didn't expect too much of a challenge. We start building the Deviants – a cross between mythical beasts and mechs. The Deviant leader Kro is mech like with a custom head mould and flames galore. Standing about 5 inches tall, it's a works well for battling the eternal heroes. At the same time Oscar's building an old Castle Sets, so his knights also joined the battle. So too did the Ogres – the enemy of my enemy is my friend as they say!
The second Deviant is a large 4 legged beast. Like Kro, it too has flames galore and would be a menace to face in battle. The build itself is a little like dissecting a frog in science class, you build it splayed and then fold it's legs back into place. The beasts tail, jaw and legs can be moved, but otherwise there's no particularly special features.
We then start building the spaceship. It's quite unique relative to other spaceships you might imagine (star wars, star trek etc). As a triangle it does introduce some great techniques particularly around the points. The use of left and right hand doors to seamlessly complete the points is a nice touch and not something I've seen in the recent past.
We've talked before about not being a fan of stickers and that hasn't changed. However, in this set many of the stickers are for circular plates and that makes it a little more enjoyable. I'm not sure why – perhaps it's easier to place the in the right spot, or visually more satisfying? Who knows? For a long time we've used our fingers to place the stickers, but our friend John at BricktasticBlog gave us the tip to use the orange Brick Seperator which works a treat. It makes it much easier to position them, avoids fingerprints and the stickers moving in tight spaces. Give it a try!
The ship itself has three separate dual hinged sections to allow for easy play once built. They are quite a simple design, but work really well.
Without a doubt, my favourite part of the ship is the karaoke station and the coffee machine. Is it really a karaoke machine or a cool example of NPU? I'm not sure, but I'm going to lock in the Karaoke machine as my final answer.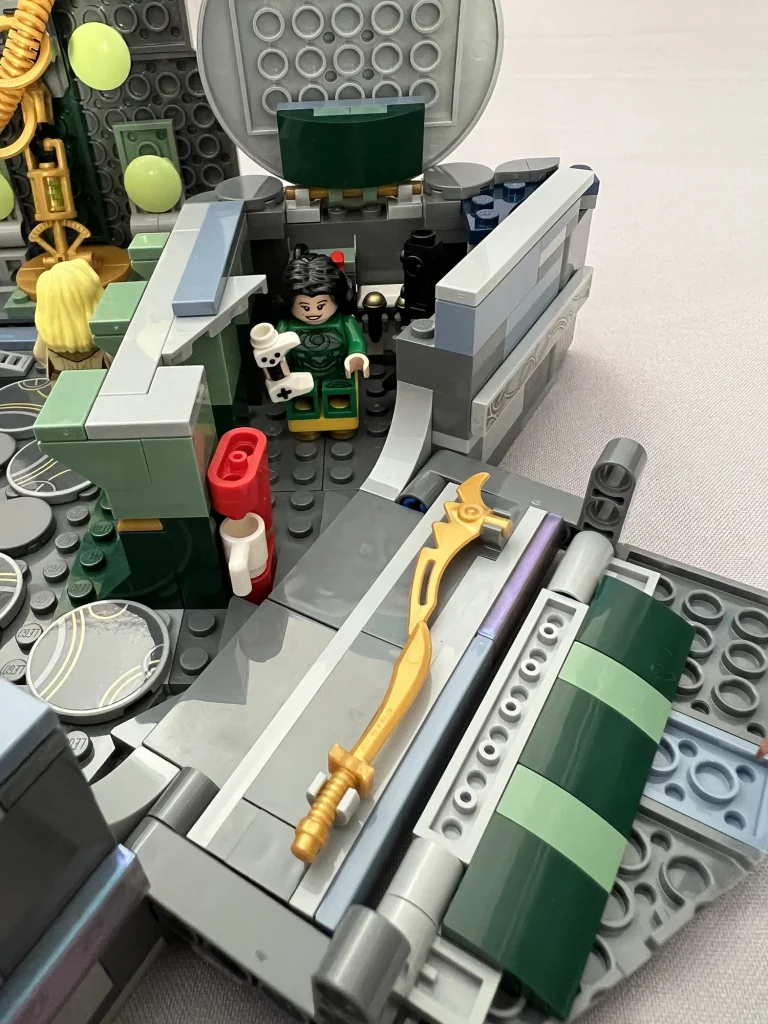 There's also a little gaming controller, so it probably is the chill out zone on the ship. Every modern ship must have a gaming zone if it's to attract the next generation of superheroes! It's right next door to the weapons armoury just in case things getting too heated over a game of LEGO Batman.
The top surface of the ship has many elements that are either hinged or removable for access to the cockpit, the science lab or other areas of the ship. It's a good approach for swooshability.
Throughout the build, each new bag brings a new minifigure, with two exclusives – Druig and Phastos. Which one is which no-one really knows.. Ok, anyone who's watched the movie probably knows. Alas, that isn't this reviewer (yet). Each minifig has unique and detailed space suit printed on their legs and torso.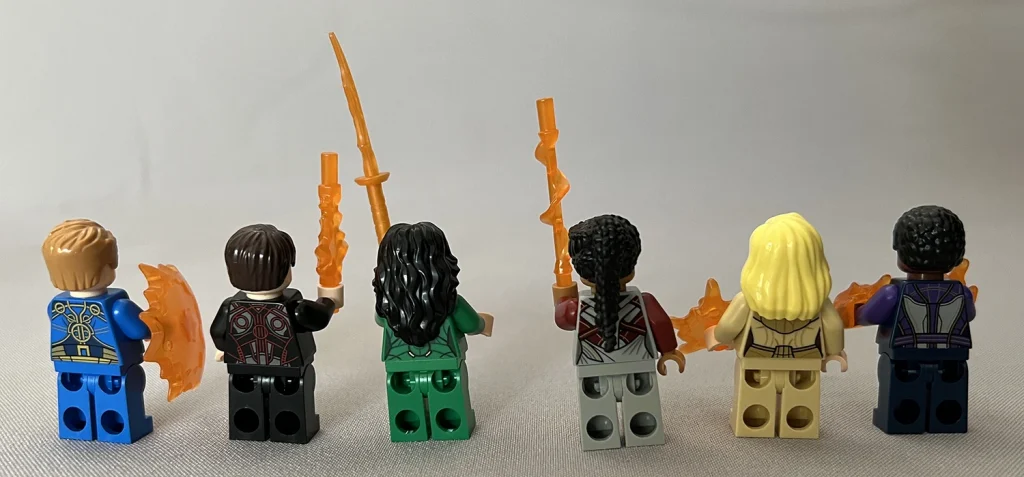 Like all minifigs, they are great fun to play with, and these have quite a few energy weapons to help them battle the Deviants.
The battleship once complete is certainly different, but I don't mind it. It's got a few greebles, but perhaps could do with a few more. The front of the ship also has a cockpit for the captain, hidden behind the main shielded door.
Overall Thoughts
This set doesn't seem to have received much love from the buying public with it frequently on sale for 30% or more off. I suspect its because the movie itself didn't particularly take off. Notwithstanding, I didn't mind building the set. It had some unique techniques and was enjoyable to build whilst on holiday. The average part cost is ~17c / brick which is generally a little high, but there is a high count of large pieces. Overall, I'd feel a little better if this set was at the $149.99 mark RRP. Perhaps my opinion would also be different after seeing the movie.
Set: Rise of the Domo
Theme: Marvel
Set #: 76156
Number of Minifigs: 6
Number of Pieces: 1040
RRP: $179.99