In the never ending journey to get kid's off the screen, I've avoided digital LEGO building so far. We're lucky we have a pretty decent real life collection to build with. Alas, there comes a time when your children realise they can also build LEGO virtually and one can only hold back the dam for so long.
That day arrived a while ago and Oscar downloaded Stud.io to start building online.
Stud.io is a fantastic tool for LEGO enthusiasts. Its intuitive interface and powerful features make digital building and rendering an absolute breeze. With access to a vast library of virtual LEGO elements, the possibilities for creating custom models are pretty much endless.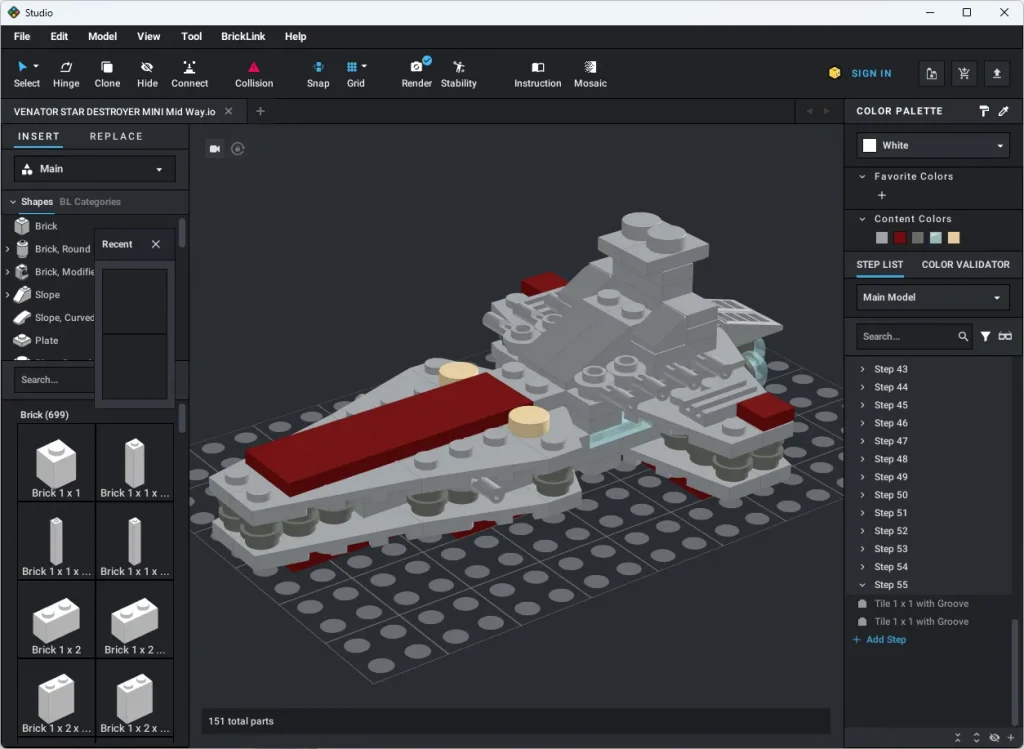 Whether you're looking to bring your dream build to life, or simply want to experiment with different techniques, Stud.io is the perfect tool for the job.
Developed by Bricklink (now owned by LEGO) the tool has great integration into the brick link ecosystem to establish part pricing and scope out turning your digital creation into a physical one.
After downloading Stud.io, Oscar started mastering the tool and designing YASWS (Yet Another Star Wars Ship). He's building a pretty decent fleet for his room. After learning the tool for a few hours, he created a Venator Class Star Destroyer in micro scale. It's pretty epic and has all the elements to speed through hyperspace (and/or your living room).
In addition to creating the digital render, you can also create step by step instructions.
So like any good LEGO fan, he followed his own instructions and made the real thing. Suprisingly, it turned out exactly like the instructions (and digital render) said it would…. That is to say, awesome!
After the build process is complete, you can render the MOC with the build occurring step by step. It's such a cool feature but be prepared for your PC to chug away for quite some time depending on what CPU/GPU you are using. With a pretty beefy graphics card, the render below took about 2 hours.
Once you've built you digital model, you can even upload it to Rebrickable. There's a huge range of MOC instructions on the site including MOC's like this and those made using other official LEGO sets.

Oscar's uploaded the Venator Star Destroyer instructions for just $2.99 but if you use the code PERTHLUG it drops it even further to just $2.09 AUD (~$1.45 USD). With 57 pages of detailed instructions, you too can build your own fleet.
To wrap up, if you've not yet played with Stud.io, definitely download it and give it a shot. It's compatible with PC, Mac and Linux and the learning curve isn't too steep at all.