Hey everyone! Today I'm back with another set of Minecraft March, The Mushroom House. Enjoy!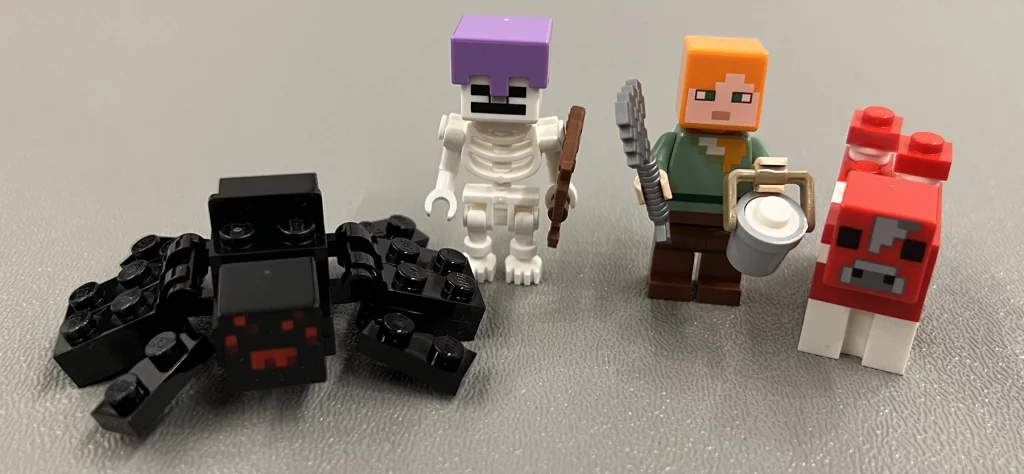 The set begins with the 4 minifigures. Alex, a skeleton with and enchanted helmet, a spider and a mooshroom (which is like a mushroom cow if you didn't know) Besides the mooshroom, most of the figures were pretty basic, and if you are a buyer of LEGO Minecraft sets you probably have most of those figures already. But one of the cool parts was how the skeleton could ride on the back of the spider to become a spider jockey. It's 2 leg pieces clip onto an inverted 1×2 bracket piece.
In terms of the actual mushroom house, it wasn't too big. The baseplate is just a bit of grass and a small farm by some water that I liked. The actual mushroom is built on some fences which hold the outside part up. There is a wooden floor which has a yellow bed and a crafting table. It's pretty snuggly but I guess what can you expect when you live in a literal mushroom. (Yes, I believe the set is meant to imply that Alex has grown the mushroom and used it's hollowed out inside to make a house, which is a pretty smart idea.)
The mushroom part is then built to go on top. This was the part of the set I was dreading due to the 1×1 pieces embedded inside the wall, but it actually wasn't too bad. The 3 walls came together quickly, and they each had their own blue windows in their centres. All 3 walls can come off easily if you want to access the inside as well.
To finish off the house a roof and 4th wall are created in basically the same way as the other three walls, except they are connected. This allows you to either have a full mushroom with the roof on, or access the inside and have half a mushroom with it off. After this, the only other part of the set is a tree, which goes next to the mushroom and looks pretty nice.
Overall Thoughts
This set is definitely a small one, and it didn't have the rarest minifigures, but I still think it is great! Hope you enjoyed the review in our ongoing Minecraft May bonanza!
See ya!
Set: The Mushroom House
Theme: Minecraft
Set #: 21179
Number of Minifigs: 2
Number of Pieces: 272
RRP: $32.99
A special thanks to our friends at Zavvi who supplied this set for us to build. Don't forget to check out the competition page for your chance to win a great Minecraft set! Not long to go until the winners are announced!