Today I will waste no time as I hop (get it) into the LEGO Minecraft Rabbit Ranch review!
The set come with 2 minifigures, a player and a zombie. The zombie is the normal design with a stone sword while the human has a turquoise head and farming gear. They even have a carrot in their belt! The set also comes with an adult black rabbit and a baby brown rabbit. The rabbits have a mould which is pretty big which connects onto a smaller brick-built body.
The centrepiece of the set (and the first part you build) is the actual rabbit build. It functions as a rabbit pen, with an enclosure at the front with a gate. The back of the rabbit can lift off and you can look inside to see some hay and a crafting table.
Next to the rabbit you move onto building the farm and a tiny cave. There is a small hole you can put a carrot in to look like it's planted. There is a water stream next to the carrots which has some different flowers dotted around it. There are also some sunflowers which I think look really good and accurate.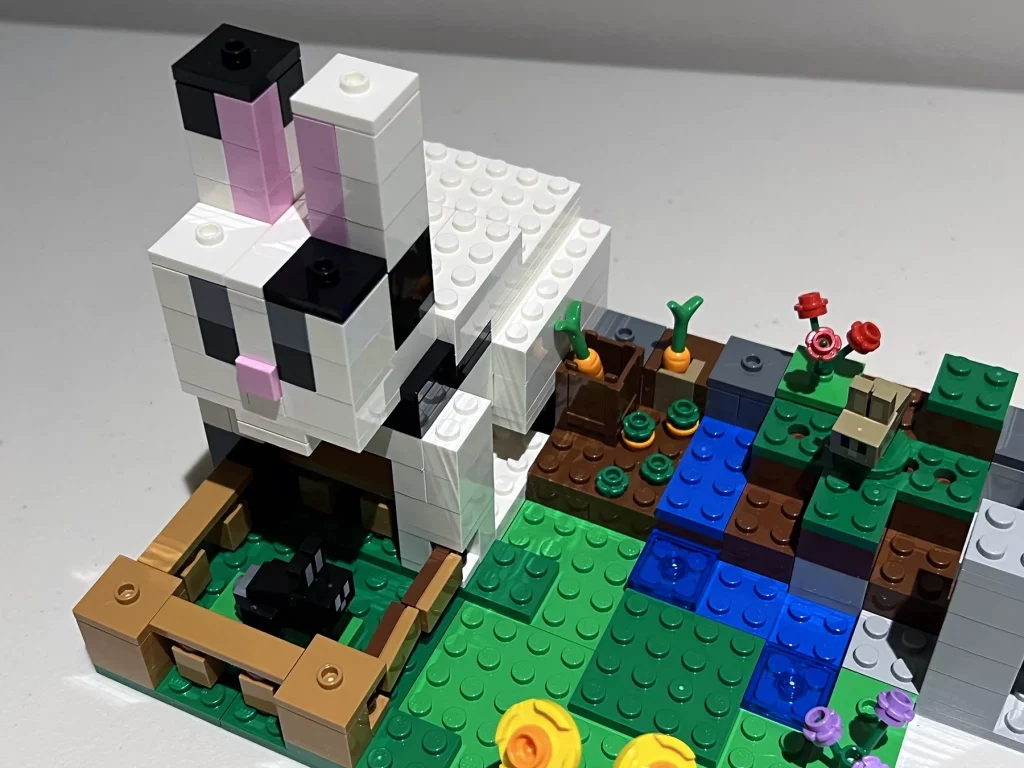 The final part of the build is the small cave. It is open and has some lapis lazuli ore inside. The top is made of grass to look like it's under a hill, but this grass top can be blown off with a TNT function. By pulling a lever the top blows off and the TNT goes flying.
One of my favourite parts about the set is the rabbit jumping function. You can press down a plate and it will push up a technic axle with a stud. You can sit the rabbit on this stud and make it look like it's jumping up and down, which is really cool.
Overall Thoughts
Overall, this was a small set, with some cool minifigs. The designers have also packed a fair bit into the little set. Another great set for Minecraft May!
See ya!
Set: The Rabbit Ranch
Theme: Minecraft
Set #: 21181
Number of Minifigs: 2
Number of Pieces: 340
RRP: $49.99
A special thanks to our friends at Zavvi who supplied this set for us to build. Don't forget to check out the competition page for your chance to win a great Minecraft set!