Today we are gonna blast off into reviewing the LEGO Lightyear XL-15 Spaceship!
I originally tried to hold off reviewing this set, as I wanted to see the movie first, but I decided to make it anyway, since it did look cool. The minifigures for the set are build in each pack, but I'm going to go over all of them now. There are three minifigures included, Buzz Lightyear, Mo Morrison, Darby Steel, and Buzz's robot cat Sox.
It's a pretty great assortment of minifigures for the small set, with Darby having a rocket launcher and Mo having a harpoon gun too! All three of the minifigures come with helmets and shoulder armour as well.
The set starts off as you would expect it too, with the base being constructed and built upwards. You only really begin to start to see the best parts of the spaceship when you get onto packs two and three. The cockpit has to be one of my favourite parts, particularly the joystick which is created using a small ball joint.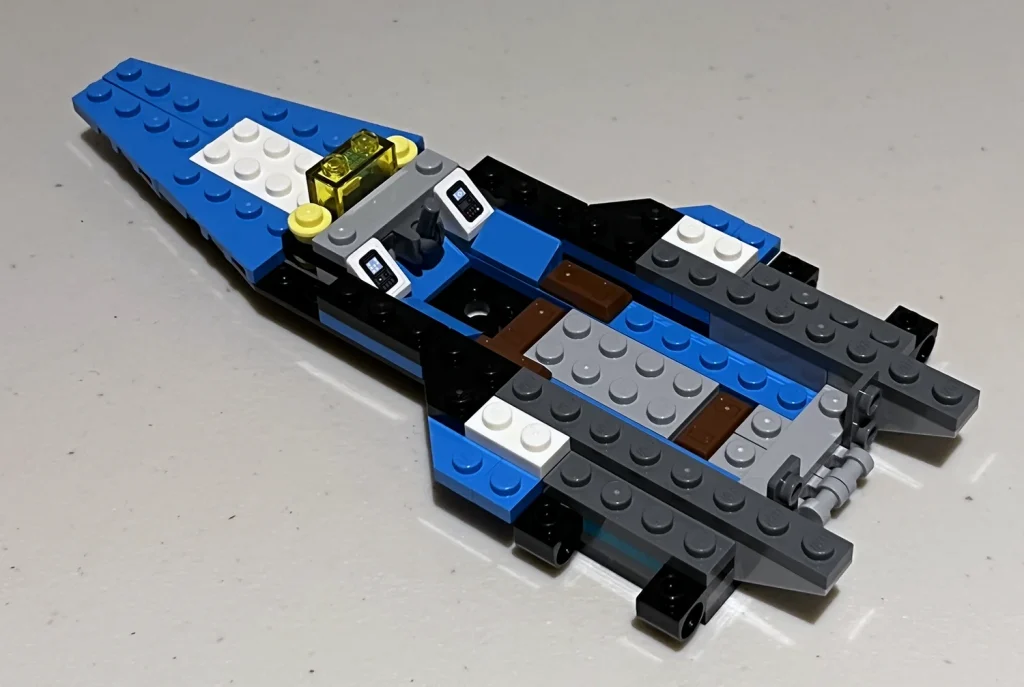 After the main cockpit section is done the two angled wings are created. They are actually attached to the ship on an angle and secured with some technic pins. I will also add that there are a fair bit of stickers in this set too, the wings are where a lot of them are. But regardless of the stickers, the wings are great, and their angle makes it look like a real spaceship.
The final section of the set was the rocket engines. (I guess you could divide it into 3 sections, the base, wings and engines) The front exhausts for the engines used some really good techniques to get a great look. Different small parts of the white covering around the exhausts were built, and then clipped on using clip pieces to be at an angle. On top of these coverings were the two vertical stabiliser fins. (I know it's a very weird term, basically the rudder looking things on top of the spaceship)
The back of the spaceship is where the actual engine cylinder come out, you can see them very clearly and they can be instantly identified. In between the two engines there are two hatches, one on the back and one on the top. They can open up to store things inside, such as the computer and a frozen ice box thingy that you build alongside the set's minifigures.
The last thing for the set is something I didn't really expect, a display stand! For a small set like this it is pretty great, you normally only see display stands in UCS sets. Although it wasn't required I think it was a great addition. It comes with a stickered plaque that has some information about the XL-15 as well.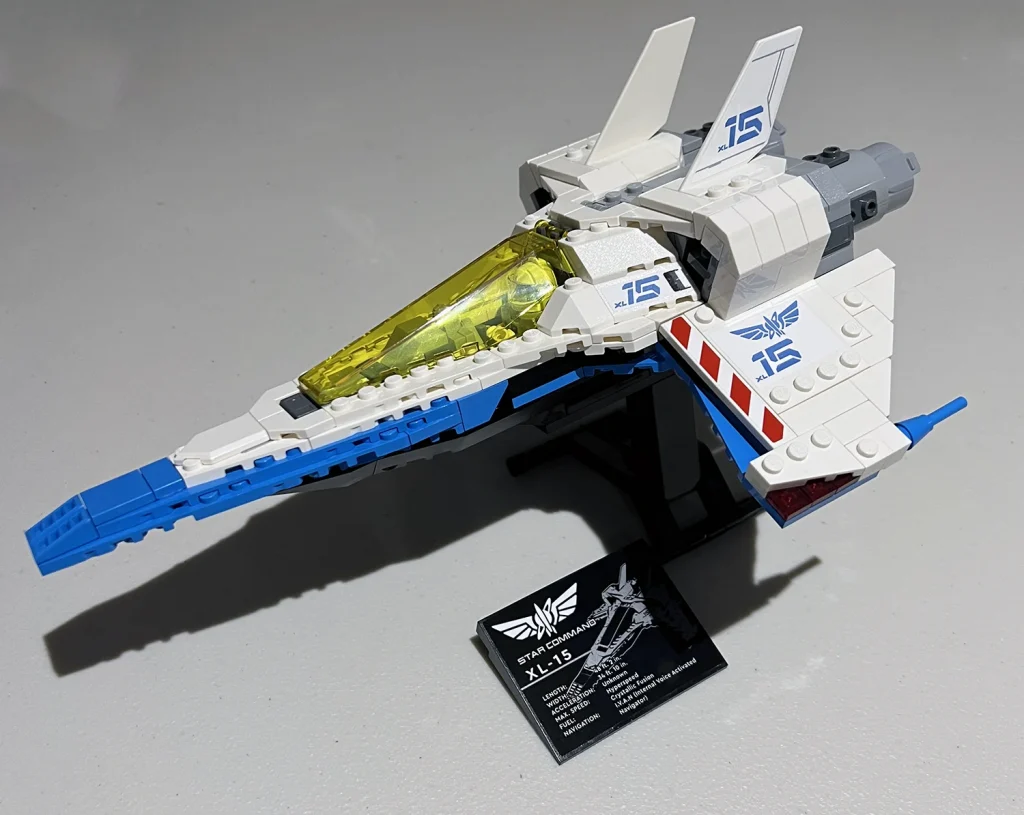 Overall Thoughts
Overall, I really enjoyed building this set! From what came in this set, it seems like Lightyear is going to be a fantastic movie, and I can't wait to go see it. The ship has a great design and lots of swooshability. Plus the new shoulder mounted Bazooka is epic! See you next time!
Set: XL-15 Spaceship
Theme: Disney and Pixar's Lightyear
Set #: 76832
Number of Minifigs: 3
Number of Pieces: 497
RRP: $79.99
A special thanks to our friends at Zavvi who supplied this set for us to build. Check them out for great deals on LEGO sets.
Overall: 85%