With a towering height of 149cm's (or 4'8″ in the old money), and a equally towering price of $999 Aussie dollars the Eiffel Tower has been announced! Available on the 25th November, the set looks striking, but I'm not sure about the level of enjoyment in the build noting pure iron is just one colour after all.
Notwithstanding, it certainly looks to be an epic set and cost shouldn't put you off it you're right into architecture. The LEGO Titanic is a similar cost and that build was fantastic and still holds pride of our place on display.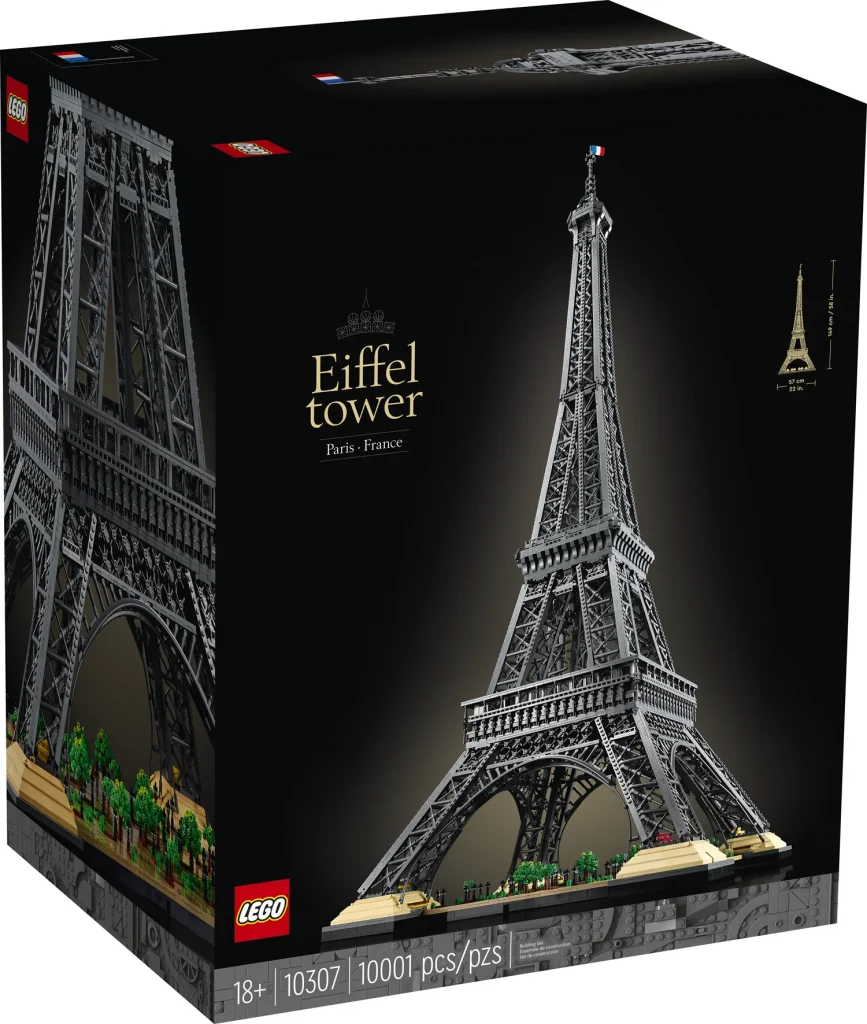 With 10,001 pieces, it is absolutely massive. With a set this size, if you have small child, they'll have hours of fun playing with the box!
Let us know in the comments if this is a set that's on your Christmas Wish list.
Straight from LEGO HQ
15th November 2022: The LEGO Group has today revealed its tallest build yet – the breath-taking new LEGO® Eiffel tower set. One of the world's most recognisable landmarks, the new LEGO set will immediately transport you to the heart of Paris.
Embodying the famous landmark's height and standout architecture, this towering LEGO set reaches a magnificent 149cm / 58inches / 4.8ft tall once built, making it the ultimate statement in brick form.
A magnificent way to add a new display piece to your home, the 10,001 piece set is designed to authentically replicate the momentous wrought iron tower – complete with the beautiful truss-work, three observation platforms, landscaping, elevators, an office at the top and a broadcast tower and the Tricolore flag at its peak. The set can also be separated into four sections, making it manageable to build, move and play with.
The Eiffel tower was constructed from 1887 to 1889 as the centrepiece of the 1889 World's Fair. Despite receiving initial criticism for its design, it has since become a global, cultural icon and one of the most recognisable structures in the world.
Describing the process of designing the new set, Rok Žgalin Kobe, LEGO Designer comments: "We wanted to find the ultimate LEGO expression for the engineering and architectural masterpiece that is the Eiffel tower. We followed the structural principles of the original tower as closely as the LEGO System would allow. During the build you'll uncover interesting, novel LEGO building techniques that bring the tower's architectural features to life in LEGO bricks. Once complete you can imagine the breath-taking feeling of standing at the top and looking across the rich history of the city of Paris. It is the perfect set for travel and architecture fans alike."
The LEGO Eiffel Tower set is available from 25th November 2022 via LEGO Stores and at LEGO.com/Eiffel at the recommended recommended retail price of $629.99 / €629.99 / £554.99.