What better way to wake up than to three awesome new Star Wars LEGO sets? Ok, there might be a few other awesome ways, but it has to at least be in the top five? In a similar form factor to many Architecture sets, one of the models is built in in micro scale, with the other two a familiar minifig scale.
For us, an absolute must buy for any fan is the Death Star™ Trench Run Diorama. Not only is it the cheapest of the three at $89.99 with 665 pieces, it's a scene that every fan absolutely loves. It has a special place in our heart as we have a similar plastic Bandai model we picked up in Japan that was awesome to build together. That was cool, but this is even better! Alas, there are no minifigs so it breaks our rule (plea) that every set should have at least one! Plus look at all those greebles.
Our second favourite of the three goes to Dagobah™ Jedi™ Training Diorama. At $119.99 with 1000 pieces, 2 minifigs and a droid, it looks epic. The colourscape looks dead on with the green swamp oozing danger. There are some great build techniques in the set as well.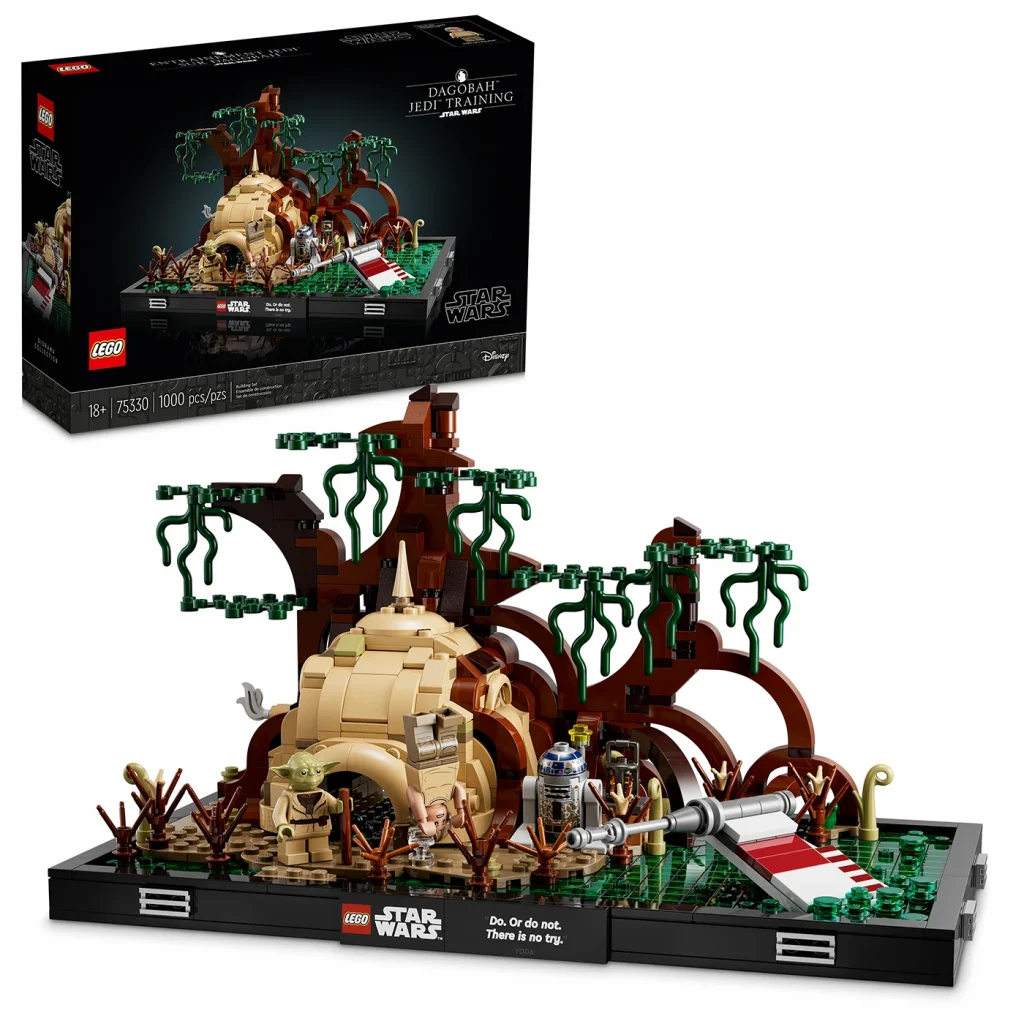 The final set to be released is the Death Star™ Trash Compactor Diorama. It's another iconic scene but at $149.99 and 675 pieces, perhaps the hardest of the three to immediately recommend. You do get four minifigs though with Chewie, Luke, Princess Laia and Han Solo all making an appearance. So too does C-3PO and R2-D2 at the controls trying to rescue the team. I would have liked to see this set around the $129 mark for a bit better value.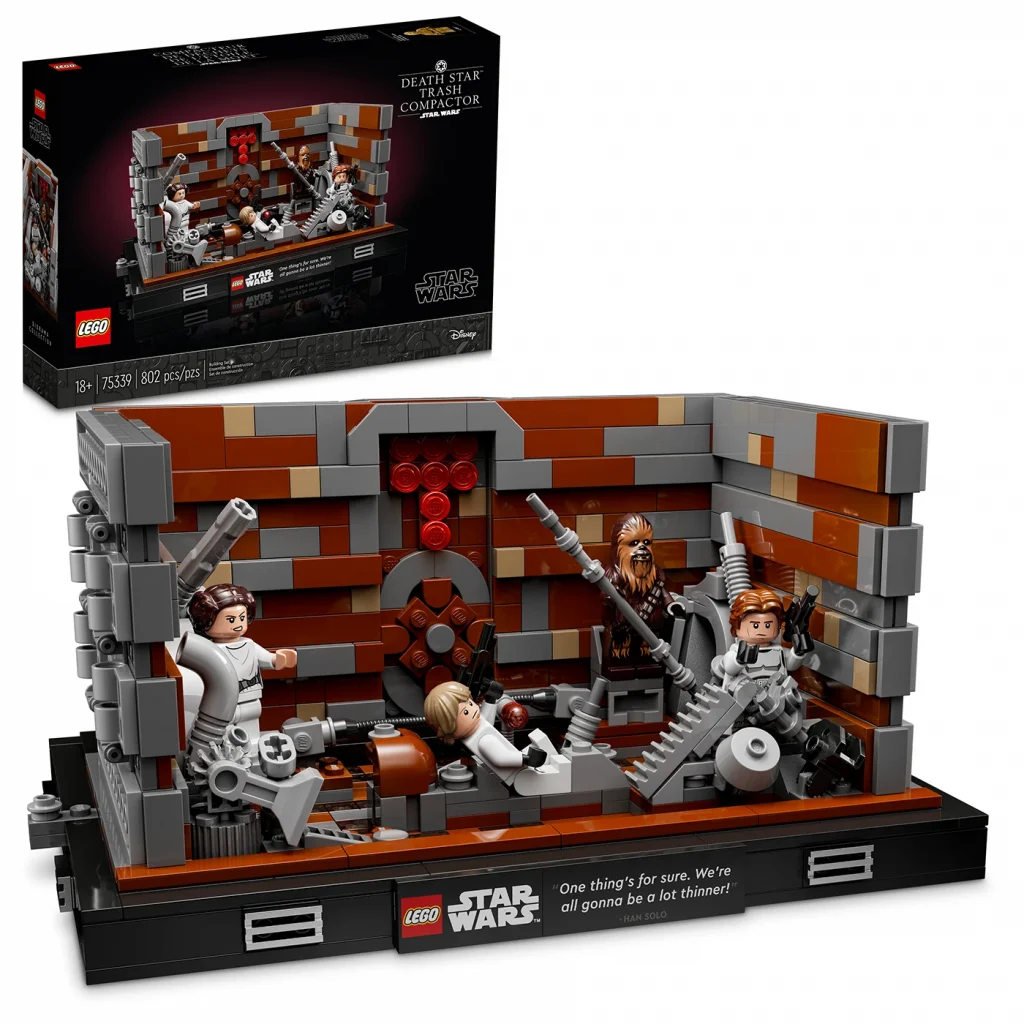 Straight from LEGO HQ
Billund, Denmark, March 24, 2022: The LEGO Group is unveiling a new collection of LEGO® Star Wars™ Diorama building sets to help fans relive their favourite scenes from the original trilogy in LEGO brick form.   
The three new sets span iconic scenes from Star Wars: A New Hope and Star Wars: The Empire Strikes Back to give fans a new way of exploring their love for the early films while building a model they can proudly display once complete. 
Inspired by Star Wars: A New Hope, the LEGO Star Wars Death Star™ Trench Run Diorama invites builders to recreate the gripping scene of Darth Vader™'s pursuit of Luke Skywalker™, as Luke fights to destroy the newly-built Death Star for a victory on the Rebellion side. Finish off the build with the memorable words of Darth Vader, "The Force is strong with this one."
Continue the journey with the crushingly dramatic Star Wars: A New Hope scene, where Luke Skywalker, Han Solo™, Chewbacca™ and Princess Leia Organa™ are temporarily stranded after freeing the princess from Detention Block AA-23, with this Death Star Trash Compactor Diorama building set. Packed with authentic details including moving walls, a dianoga's head, and famous characters like C-3PO™, R2-D2™, Han Solo, Luke Skywalker, Chewbacca and Princess Leia, fans will have no shortage of key features to showcase in this set. Channel your focus and have fun with Han Solo's witty remark: "One thing's for sure, we're all gonna be a lot thinner," to complete this legendary moment.  
And if fans are looking to homage "feeling the Force," simply find your balance with the LEGO® Star Wars™ Dagobah™ Jedi Training Diorama building set. The striking display lets training Jedi relive moments from Master Yoda's™ hut in the swamps of Dagobah while recreating the details of this iconic Star Wars: The Empire Strikes Back scene. Complete with minifigures representing the characters of Yoda, Luke Skywalker, and R2-D2.
The new models will be available for pre-order from March 24th, globally from LEGO.com. From April 26th, 2022, the models will be available from LEGO.com, LEGO stores and other retailers priced from 59.99 USD/EUR- 89,99 USD/EUR. The 75339 LEGO® Star Wars™ Death Star™ Trash Compactor Diorama building set will be exclusively sold at Walmart stores, in addition to LEGO.com and LEGO stores. Check your local store for more information.